The Tiffany Telegram: September 3, 2021
Dear Friend,

President Biden declared this week's chaotic evacuation effort from Afghanistan that ended Monday afternoon – leaving hundreds and perhaps thousands of Americans behind – "an extraordinary success". Like many Americans, I was shocked to hear the president characterize the debacle that has unfolded over the last two weeks – leaving 13 American military personnel dead – in this way.  One cable news host put it this way:  "Biden bragged about what a remarkably, really stunningly and historically successful military and intelligence operation we have just witnessed," he said. "Apparently, Biden is under the impression that the entire United States has lost electrical power and no one has a working internet connection."
 
On Monday, I joined Tucker Carlson Tonight
to discuss what I learned on my visit to Fort McCoy last Friday.

The mess President Biden left behind in Afghanistan thanks to poor planning and bad tactical decisions is shocking. One recent news report indicated that during the hasty U.S. withdrawal, an unknown number of hand-held biometric scanners were left behind that are linked to "a massive US-built biometric database." A Taliban death squad of more than 1,000 is reportedly now using these machines to "positively identify any person who helped the NATO allies or worked with Indian intelligence." This is on top of disturbing reports of potentially billions of dollars' worth of U.S. military equipment, weapons and even sophisticated aircraft that have fallen into the hands of the terrorist group.

Here at home, the consequences are also mounting. As many of you know I have been raising serious concerns about the massive influx of Afghans now arriving in the United States. While my office continues to assist those who participated in sensitive U.S. military, diplomatic and intelligence efforts to get safely into the United States, the fact of the matter is that not every Afghan national seeking to enter the U.S. fits into that category.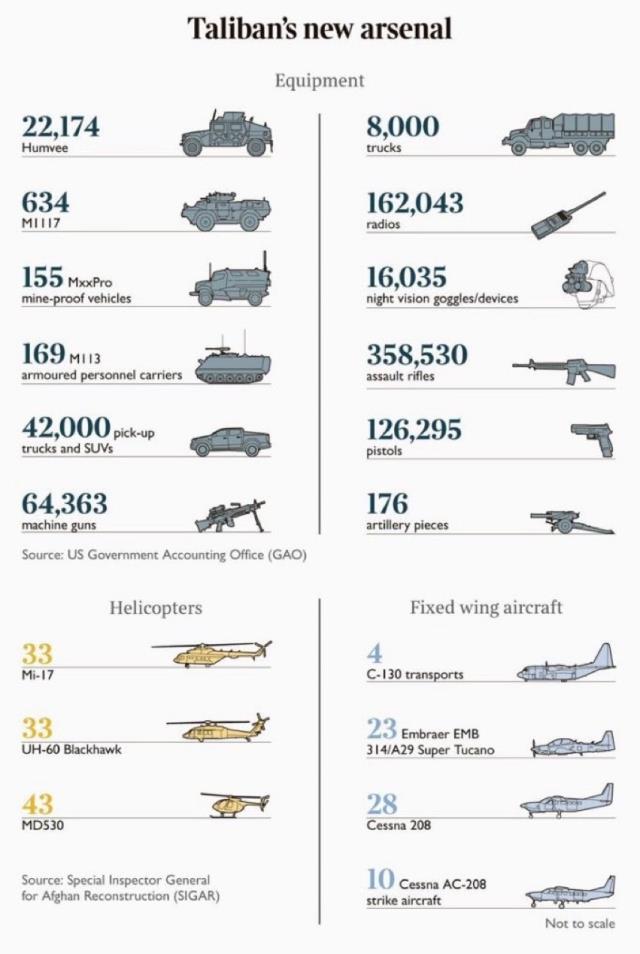 The White House has given vague and conflicting answers regarding how and where Afghan evacuees are being vetted. One administration official claimed two weeks ago that screening is being completed overseas - but a Pentagon spokesman contradicted that claim the same day, saying that arrivals would continue their processing at sites like Fort McCoy right here in Wisconsin (more on that later). The fact that vetting which took months or even years a short time ago is now being done within days or hours also raises serious questions – and we have already seen dangerous individuals slip through and board flights to the United States. Worse, we know that even before the collapse of the Afghan government – when our immigration officers could still communicate with partners in Kabul to verify people's identities and backgrounds – a whopping 84% of Afghan applications for Special Immigrant Visas were rejected.

Americans deserve answers when it comes to how the Biden administration is screening those who are arriving in states like Wisconsin. It's not "fear mongering" to ask these basic questions, it's just common-sense – and our national security depends on it.

Thanks for starting off your holiday weekend with us, and we hope you enjoy this week's edition of the Telegram.

Sincerely,

Tom Tiffany
Member of Congress

More Afghans en route to Fort McCoy?
Last Friday I visited Fort McCoy for a briefing from base officials on their mission to house Afghan nationals.  I have nothing but the utmost respect for our military professionals, who are doing a great job under unprecedented circumstances. During my visit, I learned that around 2,000 Afghans were present at the base – a number that has increased substantially since then to nearly 9,000. In fact as of Wednesday, Fort McCoy held more Afghans than any other military installation in the U.S. – and the base is now making preparations to accept an additional several thousand above its capacity – 13,000. During my visit, I learned that of the thousands of Afghans on base, not a single one was holding a Special Immigrant Visa – the document given to Afghan translators and interpreters. You may also be surprised to learn that the Afghans at Fort McCoy are under no obligation to stay on the base, and are free to leave whenever they want.  If that concerns you, you're not alone. This week we learned that a convicted rapist who spent five years in prison and was previously deported managed to board an evacuation flight out of Afghanistan and was not detected until arriving at Dulles International Airport outside of Washington, DC. We are also learning that most Afghans entering the U.S. do not have valid visas and are instead being admitted under a little-known administrative procedure known as "parole." You can read more about that here.

If refugee agencies "see something," they should "say something"
With the Biden administration caught off guard by the rapid collapse of the Afghan government, and the subsequent evacuation of more than 120,000 people from the Kabul airport, refugee resettlement groups are now filling the gaps in the federal government's rushed effort to bring Afghan migrants into the country. Given the many questions surrounding rushed screening of this large influx of people that we've discussed, these groups must exercise due diligence by observing, asking questions, and sharing any significant information they obtain with the appropriate authorities. I sent a letter Wednesday to many of these groups asking them to do just that. You can read that letter here. It is important to remember that Afghanistan is arguably the most dangerous country on earth, a failed state, and a headquarters for multiple foreign terrorist organizations. Everyone involved with the resettlement process, from government officials to private groups helping with humanitarian assistance and integration, has a moral obligation to say something if they see something.
---
                           Recent Legislation
Awarding Our Heroes with the Congressional Gold Medal
This week I joined my colleagues in support of posthumously awarding a Congressional Gold Medal, in commemoration of the service members who perished in Afghanistan on August 26, 2021, during the evacuation of U.S. citizens and Afghans at Hamid Karzai International Airport. Although this medal will never bring back our loved ones, it symbolizes our steadfast appreciation for their sacrifice. The loss of our men and women is heartfelt, and I send my deepest condolences to the families of our warriors. I also wish a fast and speedy recovery to our service members who were wounded as a result of this tragedy in Afghanistan. Your sacrifice was not in vain.  When the dust settles, rest assured that many answers will be had on how this chaotic operation unfolded. For now, our hearts and prayers are with you, and we thank you for your selfless dedication to us, and our country.
---
                          Committee Update
Committee on Natural Resources
On Thursday, the House Natural Resources Committee had our first markup of the panel's portion of a massive so-called "human infrastructure" package. This budget-busting bill is full of radical "green new deal" style proposals and other expensive progressive priorities that American taxpayers do not want and cannot afford. To make a very bad bill a little bit better, I offered several amendments to the legislation. The first amendment I offered would prohibit funds for constructing or financing renewable energy projects with materials sourced or manufactured in Communist China or Afghanistan. We know that between one-third and one-half of the polysilicon material used to make the world's solar panels comes from Xinjiang and that "Xinjiang Goldwind" is among China's largest wind turbine manufacturers (this "company" also has deep ties to the Chinese Communist Party). We also know that Afghanistan, which is home to vast lithium deposits, has now fallen into the hands of the Taliban. It is for these reasons that I offered this common-sense amendment. If there is something lawmakers from both political parties should be able to agree on, it is that hardworking Americans shouldn't be underwriting investments that benefit China's genocidal rulers, or the same Taliban that provided safe haven to those who attacked the United States on September 11, 2001. My amendment, and the bill, will be voted on when the markup continues next week.
---
                             District Update
Einar 'Sarge' Ingman Jr
On Saturday, I hosted a ceremony along with U.S. Sen. Ron Johnson, State Sen. Mary Felzkowski, and State Rep. Calvin Callahan to rename the Tomahawk Post Office in honor of Korean War hero Einar 'Sarge' Ingman Jr. Despite being severely wounded during battle, Sergeant Ingman went on to single-handedly destroy two machine-gun nests. His leadership on the battlefield that day allowed his squad to capture their objective and forced more than 100 opposing troops to retreat. In 1951, Ingman was awarded the Medal of Honor, two Purple Hearts, and three Bronze Stars for his heroic actions during the Korean War.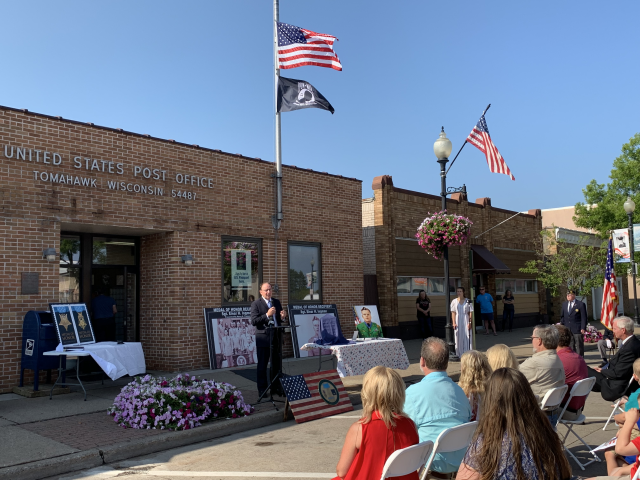 Oshkosh Defense Tour
This week I had the opportunity to tour Oshkosh Defense, which serves as a global leader in the design and production of military vehicles and specialized systems. It was great getting a behind the scenes look at all that goes into designing the equipment that keeps our service members safe!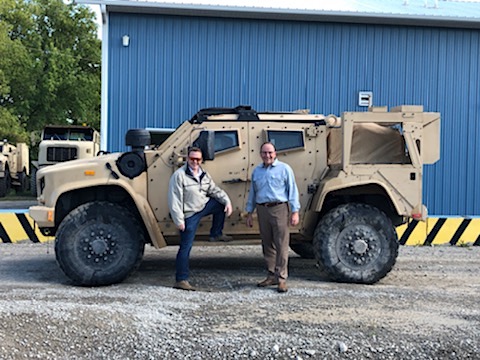 COVID Update
This week Wisconsin saw an uptick in positive case numbers, up from an average of 1,470 cases per day to 1,744. While the number of hospitalizations in the Northwest Healthcare Emergency Readiness Coalition (HERC) region remained stable, the North Central region saw a 27% increase in admissions. Despite the increase in positive cases the average number of statewide deaths decreased this week down to six.

On the vaccine front, Wisconsin has administered 6.1 million doses with 3 million residents now fully vaccinated. Currently 54.9% of Wisconsinites have received at least one dose, which includes 98.8% of residents aged 65 or older. As always, if you wish to register for a vaccine appointment please utilize the state registry system here: https://vaccinate.wi.gov/en-US/.

We also want to highlight that the Wisconsin Department of Health Services is now recommending that some immunocompromised individuals get an additional dose of the Pfizer or Moderna COVID-19 vaccine following a completed series. Those who are moderately or severely immunocompromised have a reduced ability to fight disease and a lower immune response to the original vaccine series compared to other fully vaccinated people. Talk to your health care provider if you believe you fall into this category. If you don't have a health care provider, call 211 or text COVID to 211-211.
---
                           Upcoming Events
Veterans Expo
Wednesday, September 15, 2021 - 10:00am - 2:00pm
Veterans Community Center
10534 Main Street
Hayward, WI 54843

Service Academy Day: Superior
Saturday, September 25, 2021 - 10:00am
Richard I. Bong Veterans Historical Center
305 East 2nd Street
Superior, WI 54880
Pre-register here