The Tiffany Telegram: October 1, 2021
Dear Friend,

This week Democrats in Congress continued to argue amongst themselves over a budget-busting, $5.5 trillion spending bill that Americans do not want and cannot afford. 

While gas prices recently hit a 7-year high and the cost of groceries keeps rising (the cost of beef is up nearly 60 percent this year), some in Congress remain fixated on finding new ways to dig us all deeper into debt. On top of that, they want to hit employers and families with the largest tax hikes since 1968.  Even more galling, this push is happening after trillions of dollars have already been spent paying hundreds of thousands of able-bodied Americans not to work – and resulting in eye-popping levels of fraud.

Adding insult to injury, the bill would be a huge windfall for some of America's richest people, funneling thousands of dollars in taxpayer subsidies to households that, in some cases, earn as much as $800,000 a year.

Meanwhile, chaos continues to grip our southern border – with record levels of illegal immigrants and dangerous drugs like methamphetamine and fentanyl flowing into our communities unchecked. And it is getting worse. And it is getting worse.

Just this week, President Biden's own Secretary of Homeland Security asked the agency to prepare for a "worst-case scenario in which 350,000 to 400,000 migrants cross the border in October."  This grim assessment comes days after the Biden administration admitted releasing at least 12,000 illegal Haitian migrants into American communities.
As I write to you now, officials in Panama are warning President Biden – as I did a few months ago – that another massive caravan of as many as 60,000 migrants are headed to the United States.  Yet instead of taking steps to protect American towns from this tidal wave of humanity, Democrats in Congress are working around the clock to bend the rules of Congress in pursuit of a far-reaching amnesty. It just doesn't make sense.

The bottom line is that Americans know things in Washington aren't working. From the botched Afghanistan withdrawal and scores of dangerous and often unvetted Afghans pouring into our communities, to claims that tens of thousands of illegal migrants don't plan to stay in America and a record spike in homicides, President Biden and his cabinet don't seem to have a plan. They seem confused about everything, take responsibility for nothing, and seem unwilling to answer questions about anything.
Update from Washington, DC: 
Chaos, Confusion, and Conflict 

We've got more to tell you about this week, and hope you enjoy this week's edition of the Telegram.

Sincerely,


Tom Tiffany
Member of Congress

When everything is infrastructure…
Some of you may have read about the $1.2 trillion "infrastructure" bill under consideration in Congress. I put the word in quotes because when most Americans hear the word "infrastructure," they think of roads and bridges. But less than 10 percent of the funding in this bill is dedicated to improving our highways. The bill also creates a pilot program paving the way for per-mile tax on every mile you drive – a new cost that would fall heavily on those of us in rural areas who often have to drive longer distances than folks in big cities. In addition, a federal "Vehicle Miles Traveled" tax or "VMT" raises concerns about privacy. Will the IRS or Transportation Department use GPS systems or transponders to monitor where we drive and when? The legislation also includes controversial "gender identity" language – something that doesn't seem to have a whole lot to do with fixing potholes. Everyone agrees that modernizing critical infrastructure is an appropriate use of tax dollars. What we can't accept is a Washington gravy train loaded with pet projects and unrelated policy riders.

National Personnel Records Center
We continue hearing that the National Personnel Records Center (NPRC) continues to experience a significant and growing backlog of veteran record requests since the start of the pandemic. As you may know, the NPRC is the repository for military records, including medical records and medals for our deceased veterans. We  sent letters in April 2020, November 2020, and June 2021. We are now hearing that the NPRC staffing levels have fallen even further to around 10% of capacity – from 25% during the height of the pandemic – this is unacceptable. There are approximately half a million records requests that have gone unfulfilled – primarily the Department of Defense Form 214 (DD-214). This document not only captures the service, awards, and deployments for service members, it is also necessary for them so they can apply for and receive their hard-earned veteran benefits – everything ranging from medical treatment to federal employment opportunities. When Congress identified some of these inefficiencies, they gave the National Archives and Records Administration (NARA) $50 million, $15 million of which went to the NPRC, with the expectation that they would fix this problem. Instead, we now see that their staffing levels and capacity have dropped. This week I joined several representatives in sending a follow-up letter to President Biden, Chief Archivist Fierro, and Director Ahuja seeking information and answers on what they're doing to rectify the situation. Our veterans have performed admirably during their tours of duty. There is simply no reason why we they can't get these simple requests fulfilled.

Hmong New Year
This week I joined my Wisconsin colleague Rep. Glenn Grothman in introducing a resolution recognizing the celebration of the Hmong New Year. This measure honors the cultural and historical significance of the holiday and wishes a happy new year to all who celebrate it. As many of you know, the Hmong New Year is traditionally celebrated at the end of the rice harvest season in Laos and Southeast Asia. Hmong refugees fleeing war in Vietnam and Laos began arriving in the United States in 1976 – many of them after fighting alongside Americans in the Vietnam War or losing loved ones in the conflict. In the years since, Hmong populations and their traditions have become part of our national fabric – especially in our state, which is home to the nation's third largest Hmong community.
---
                          Committee Update
Committee on Natural Resources
This week I signed on to a letter alongside three of my Republican colleagues, addressed to FBI Director Christopher Wray. We wrote to Director Wray asking the FBI to investigate ecoterrorism threats published in The New Yorker. The outlet published an interview with Swedish author Andreas Malm where he calls for the blowing up of energy pipelines. This is a continuation of a worrying trend by media platforms promoting ecoterrorism against energy. Over 200,000 people work in pipeline construction, including many Wisconsinites, so it is extremely concerning to see a major media outlet amplifying messages that put these workers' lives at risk. Something like this just goes to show how extreme some of the rhetoric has become on the left – with mainstream publications giving a megaphone to those who advocate for endangering workers and destroying property. You can read more about the letter here.
---
                          Recent Legislation
Federally funded racism? 
Racial set-asides, quotas, and racist indoctrination have no place in American law, American hospitals, American workplaces, or American classrooms. Unfortunately, progressive activists have continued to promote overhauling our K-12 American History and Civics curriculum to inject this kind of poisonous ideology into our schools. These identity-based teaching practices label students as either an oppressor or victim based solely on the color of their skin. It pits young Americans against each other while teaching them that their inherent value and destiny is predetermined based on their race. That is wrong, and it goes without saying that public funds – which all taxpayers of all races contribute – should not be spent on programs that encourage discrimination. If we are going to get serious about ending racial discrimination, the first step is for the government to stop doing the discriminating. This week I introduced the Defending Students' Civil Rights Act along with Rep. Good, which amends the Civil Rights Act of 1964 to protect students from curriculum entrenched with racist ideology and lesson plans that promote division and superiority based on individual characteristics.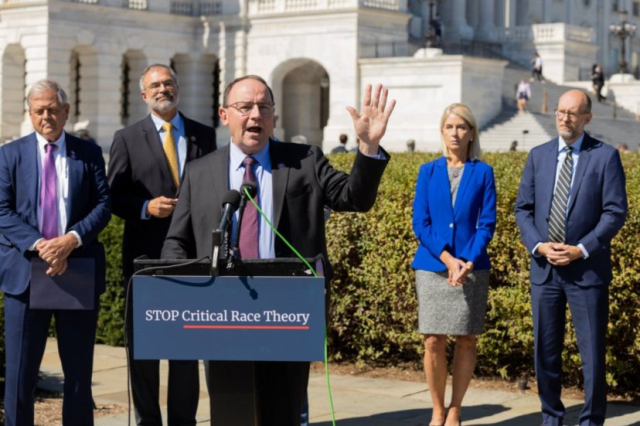 One size does not fit all 
Last month President Biden announced his COVID-19 plan, which included a federal vaccine mandate for businesses with more than 100 employees. While I believe Biden's vaccine mandate will eventually be found unconstitutional and struck down, it still has the potential to exacerbate the labor shortage in the meantime. We've all seen how well New York is doing since implementing their own vaccine mandate earlier this week. They recently declared a State of Emergency and may have to deploy the National Guard in order to deal with their self-inflicted staffing shortage – and it's not just the health care sector. This week a group of New York City teachers asked the U.S. Supreme Court to issue an emergency order blocking the vaccine mandate. I believe that you should be able to make your own health decisions based on your own circumstances with the advice of your physician. This week I introduced the Health Freedom For All Act along with Rep. Claudia Tenney of New York and Rep. Jim Banks of Indiana. It would prevent the Biden administration from enacting rules that force Americans to undergo medical procedures, take vaccines or undergo testing. You can read the bill here. 
---
                            District Update
Service Academy Day in Superior
This past weekend, my staff and I hosted a Service Academy Day in Superior, WI. We had a great turnout, and it is so encouraging to see so many young people interested in our Service Academies. Thank you to all who attended!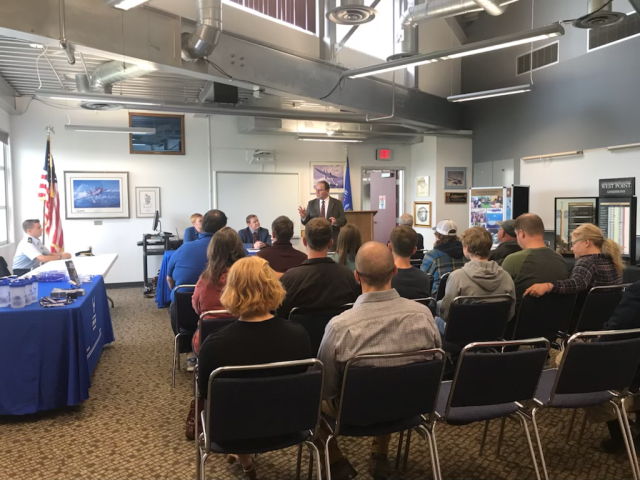 COVID Update
This week the average of new cases in Wisconsin declined by 441 cases down to 2,526 cases. Hospitalizations and ICU admissions statewide both showed no significant change. There was a slight uptick in the average number of statewide deaths this week rising to 14.

On the vaccine front, Wisconsin has administered over 6.3 million doses with over 3 million residents now fully vaccinated. Currently 56.7% of Wisconsinites have received at least one dose, which includes 67.8% of residents aged 18 or older. As always, if you wish to register for a vaccine appointment, please utilize the state registry system here: https://vaccinate.wi.gov/en-US/.
---
                             Upcoming Events
Upcoming Mobile Office Hours
Monday, October 4, 2021: 3:30pm to 6:30pm
St. Croix County Fair Grounds, Glenwood City, WI

Tuesday, October 5, 2021: 3:30pm to 6:30pm
Marshfield Public Library, Marshfield, WI