The Tiffany Telegram: July 30, 2021
Dear Friend, 

Following a busy week of votes here in the House, the Democratic Leadership along with their public health officials have once again moved to impose overreaching burdens on the American people. On Tuesday, the CDC announced yet another round of "guidance" recommending that people who have already been vaccinated against COVID-19 wear masks. And once again, the CDC failed to provide any transparency or "show their work" regarding how they reached this conclusion. News reports indicate that the guidance change was based in part on a study from India analyzing protection in vaccines that are not even cleared for use in the U.S. The study was reportedly not peer-reviewed, further undermining the CDC's ability to reference it as credible data for the implementation of new guidance. Given how murky the justification for this new guidance is, and the fact that it is a 180-degree departure from what President Biden promised in May, it's no surprise that many Americans have been left scratching their heads. 

If the lack of leadership by our public health officials wasn't frustrating enough, Speaker Pelosi announced she would be reimposing mask mandates in the House of Representatives for members, staff and visitors – going so far as to threaten those who do not comply with arrest. At the same time, the Senate side chose to frame their mask guidance as a recommendation, a clear example of the patchwork politicization that has gripped Washington.

In addition, President Biden announced just yesterday all federal workers will be required to submit to mandatory COVID-19 vaccination or be subject to "regular testing and mitigation measures." This sweeping order will impact the more than 2.1 million federal employees and sets a worrying precedent for employees in workplaces around the country. 

I have always encouraged my constituents to consult their physician and make the decision they feel best fits their daily life when it comes to mask wearing and vaccinations. My office will continue to provide tools to help you find the nearest testing or vaccination site, so please don't hesitate to reach out with those questions. As your representative here in Congress, I am committed to protecting your right to make your own choices, free from government mandates or threats from your employer. 

Americans who made the decision to get vaccinated did so based on a promise that it would allow them to resume their normal lives. The abrupt reversal represented by the CDC's new edict breaks that promise – and raises the specter of a new round of business closures and school shutdowns. Americans have weathered the assault on their freedoms for far too long.  Enough is enough.

Shifting gears, this week a series of severe storms moved across Wisconsin impacting a number of communities throughout our part of the state. I wanted to thank those of you who have gone out of your way to help friends and neighbors clean up and repair the damage left behind by the storms – as well as the crews who have been working to restore power to those who lost it.

We hope you enjoy this week's edition of the Telegram.

Sincerely,

Tom Tiffany
Member of Congress

Putting Taiwan on the Map: House Approves Tiffany Amendment 
Taiwan is an important American ally – a fellow democracy that is always quick to assist the United States where they can, such as early in the pandemic when they made an important donation of personal protective equipment to health care providers in Wisconsin. Sadly, due to Chinese bullying, Taiwan is excluded from many international organizations, such as the United Nations and the World Health Organization. They also face unfair restrictions in the Olympics, as those of you watching the Tokyo games may have noticed. Taiwan's athletes must compete under the name "Chinese Taipei." When they win medals, their national flag is not displayed, and their national anthem is not played. China's campaign of intimidation has even reached the U.S., where some government agencies have gone so far as to label Taiwan as part of Communist China on maps – even though Taiwan has never been under Beijing's control.  Earlier this week, I took aim at this absurd practice by drafting an amendment to prohibit the State Department from creating, procuring or displaying any map that depicts Taiwan as part of Communist China. And on Wednesday, Democrats and Republicans in the House joined together to approve my amendment. With so much division in Washington these days, it was nice to be able to lead a bipartisan effort to advance a common-sense measure. I look forward to working with my colleagues to build closer ties with Taiwan, and stand up to China's bullying.  
 
Watch: My floor speech on the amendment


Speaking of China… 
Telegram readers may recall that my colleague Rep. Scott Perry (PA-10) and I recently sent a letter to the Secretary of State warning the Biden administration about growing Chinese meddling in the Caribbean and Latin America. For years, China has been using their growing financial and military clout to gain a greater foothold in developing countries on America's doorstep, putting our interests and those of our allies at risk. This week the Biden administration assured us that they are taking China's mischief-making seriously. It's no secret that President Biden and I don't often see eye-to-eye on the issues, but it is encouraging to see the White House maintaining Trump administration policies that take the threat China poses to America's national security and economic well-being seriously.

$1 Trillion in Covid Relief Money Still Unspent 
For the last few weeks, we've been telling you about the budget-busting "infrastructure" bills currently under consideration in Congress.  As you may remember, the price tag on these two massive bills is more than $4 trillion – more than the total tax revenue the federal government collected last year. Adding insult to injury, a non-partisan Government Accountability Office report revealed that while some politicians in Washington are currently pushing for trillions more in deficit spending – more than $1 trillion of previously appropriated government funds have yet to be spent.  Much of that money is left over from the partisan state bailouts Congress approved last year. You can read more about the report's findings here.

Committee Update
Committee on Natural Resources
It was a busy week for the Natural Resources committee, on Tuesday we had an oversight hearing on the General Mining Law. Some Democrats want to change this law in ways that would cripple our domestic mining industry and increase our reliance on foreign countries like China for critical minerals. Increasing America's dependence on foreign nations for key inputs is a policy Americans can't afford. We need to support American mining to ensure that we can source raw materials right here at home – not places like China or the Democratic Republic of the Congo, where slave labor and child labor are rampant. 

On Thursday, my colleagues and I held a forum on the current energy crisis set in motion by the Biden Administration's energy killing policies. Experts told us they have never seen an attack on our energy industry like the one that has been launched over the last six months. Americans rely on affordable fuel to get to and from work, take their kids to school and little league practice, and to run errands – yet the White House continues to push policies that will cut production here and empower the OPEC oil cartel and countries with weak or non-existent labor and environmental standards. We have seen these policies impact prices at the pump, the price of propane – which nearly one third of our district's homes are powered by – and make it harder to transport critical fuels to market. A strong domestic oil and gas industry, as well as access to affordable energy, is key if we are going to ensure that the 21st century is an American one – not a Chinese one. I intend to do everything in my power to make sure America comes out on top.

Biden Pick for Bureau of Land Management's Ties to Eco-terrorism 
On Wednesday, I joined 75 of my colleagues from the House in writing a letter to President Biden urging him to withdraw his nomination of Tracy Stone-Manning for Director of the Bureau of Land Management. As we discussed in last week's Telegram, Ms. Stone-Manning has troubling ties to a shady eco-terrorist group – and was implicated for her involvement in a dangerous tree-spiking operation. Investigative reports have also revealed some of her past views. Last year she tweeted out an article, written by her husband, which stated that firefighters should let homes or property near forests burn. She has also expressed her support for population controls, saying "we must breed fewer consuming humans," and adding that "the earth can't afford Americans." These are extreme views, and someone who subscribes to that kind of ideology is not fit to run a major government agency. I hope President Biden will ask Ms. Stone-Manning to step aside and nominate someone more mainstream to this important post. 

Recent Legislation
Opposing the Veteran Affairs Vaccine Mandate 
This week I joined my colleagues in writing a letter to the Veteran Affairs Secretary, strongly opposing their July 26 announcement to make COVID-19 vaccines mandatory for Department of Veterans Affairs (VA) health care personnel. This mandate will require physicians, dentists, podiatrists, optometrists, registered nurses, physician assistants, expanded-function dental auxiliaries, and chiropractors within the VA system to become fully vaccinated within eight weeks or lose their job. This is extremely concerning, not only because of the health implications a one-size fits all approach has, but also for our communities of veterans who already struggle with long wait times and inefficiencies in our VA medical system. Federal agencies, including the VA, should encourage their employees to consult with their doctor and ensure that they are free to make an individual choice about getting vaccinated – not subject them to a rigid government mandate.

Restoring Military Focus 
This week I joined my colleagues in cosponsoring the Restoring Military Focus Act, which takes aim at the politicization of the Department of Defense and keeps our Armed Forces focused on their goal of defending our nation. As you know, some of the members of the Joint Chiefs of Staff over the last few weeks have made political statements, contrary to what is expected of our service members. To be clear, the Department of Defense's top priority should be to develop our men and women in the Armed Forces into a united, lethal, and battle-ready force primed to defend the United States' interests at a moment's notice. Instead, the Defense Department has allocated tax-payer dollars to support Chief Diversity Officers tasked to establish "training in diversity dynamics" and "evaluations and assessments of diversity." This political "mission-creep" has even affected our U.S. Special Operations Command (SOCOM) whose task is to train some of our most elite military units. Our men and women in uniform should not be subjected to "woke" ideology. Our service members don't care the sex or race of their leaders, they want competent and proficient leaders who will teach them the skills to survive in battle. No comfort will be gained when a folded flag is given to a gold star family, and they are told that their child's leader met a diversity quota. We need men and women of character, who are technically and tactically proficient, to lead – that is the standard, and it should remain that way.
 
---
                            District Update
COVID-19 Update 
As COVID numbers have started to creep up in the last two weeks I wanted to give a brief update on the state of the virus in our district as well as the information being released on the Delta variant. Currently, the 7-day average in Wisconsin stands at 478 cases, nearly seven times higher than our case load last month. With this in mind, death rates continue to remain at an average of 0-1 deaths each week and hospitalization rates remain low. We can likely attribute those two positive statistics to the number of people receiving vaccinations, which help to protect from adverse events during an infection, particularly a variant infection. Wisconsin currently stands at 51.7 percent of the total population vaccinated after passing the 3 million dose milestone this week. It is also important to remember that this figure does not include those people who were recently infected but recovered and have natural immunity. 
Currently, more than 70 percent of all U.S. cases are being categorized as the Delta variant, which has been found to be more transmissible than other strains such as the Alpha variant we experienced for most of 2020. Many of COVID cases resulting in hospitalizations are amongst people who have not been fully vaccinated, so while "breakthrough" infections are possible, they are not common.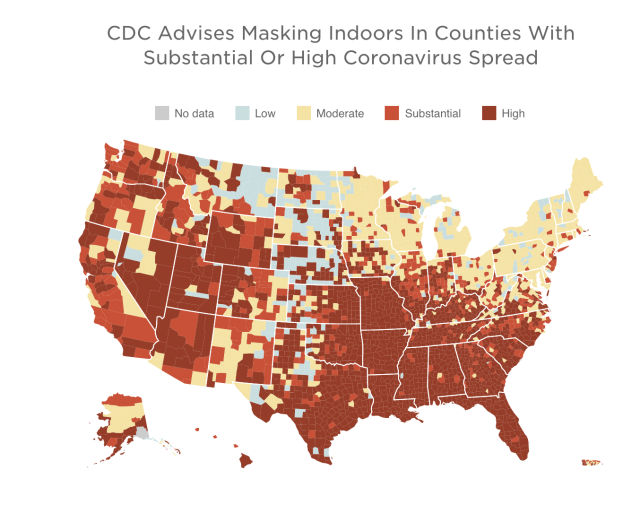 Source: CDC
I would also like to go more in depth on the absurdity of the mask guidance released by the CDC earlier this week. As I referenced previously, this guidance was based in part on a study out of India and reportedly did not involve any of the vaccines, Pfizer, Moderna, or J&J, approved for use in the U.S. Additionally, the guidance is imposed on any vaccinated resident in a county in the "substantial" or "high" category meaning residents must check the CDC website to determine their status. Not only does this overcomplicate an already complex process, it raises several questions surrounding travel restrictions, notification of status, and timeline which the CDC has so far been unable to answer. Before placing unnecessary restrictions such as these on U.S. citizens, public health officials should conduct proper research in a transparent manner.