The Tiffany Telegram: July 23, 2021
Dear Friend,

The House of Representatives is back in session this week following a two-week recess. Infrastructure is the big issue in Washington this week, and it's one that every American can relate to. Infrastructure is a crucial component of a healthy economy and should be something we can all rally behind. President Biden has repeatedly said that he wants infrastructure to pass with broad support.

The only problem is that Republicans want to pass an infrastructure bill—Democrats want to pass an "infrastructure" bill. The Biden administration's response to an economy that's already been overheated by their $2 trillion package is to double down and spend another $3.5 trillion under the guise of infrastructure. In reality, their proposal has very little to do with roads or actual infrastructure, but rather serves as a vehicle for a radical high-priced socialist agenda.

You may remember ten years ago when a member of Congress went on record saying that we needed to pass a bill in order to find out what was in it, but this week they took it a step further by asking for a vote on a bill before its even been written. That's right. Just as the United States hit its biggest budget deficit since World War II, they expected members to vote on another massive spending bill that wasn't even finished being drafted.

Their "infrastructure" plan would be reckless under normal circumstances but doing so right now is a risk we can't afford to take.

Thanks again for starting off your weekend with us, and we hope you enjoy this week's edition of the Telegram.

Sincerely,

Tom Tiffany
Member of Congress

Partisan "infrastructure" plan set to break the bank
We mentioned those budget-busting "infrastructure" bills – which are rapidly becoming a special interest gravy train. In recent weeks, we've seen lawmakers move to lard these proposals up with everything from amnesty for millions of illegal aliens to expensive "Green New Deal" style mandates. This week, we learned that the combined price tag of these two bloated spending packages alone will cost more than $4 trillion.  That is more than the total amount of revenue the federal government collected all of last year. This kind of reckless spending can only be financed one of two ways: With massive tax hikes on hardworking Americans, or by piling trillions in new debt on to the backs of our children and grandchildren. This has got to stop. Working families and small businesses make tough choices every single day to live within their means. It's time Washington started doing the same thing.

Inflationary pressure and rising prices
Earlier this year, Larry Summers, the former director of the National Economic Council for President Obama warned that President Biden's $1.9 trillion COVID-19 relief plan could, "set off inflationary pressures of a kind we have not seen in a generation." Boy was he right on the money. Unfortunately, Congress dismissed his warning and went on to rubber stamp the largest "stimulus" package in the history of the United States. Since then, the Consumer Price Index has gone up by 0.9 percent—the largest jump since 2008. Increasing the money supply in order to fund a Washington spending spree has devalued our currency, meaning your hard-earned money won't go as far as it once did.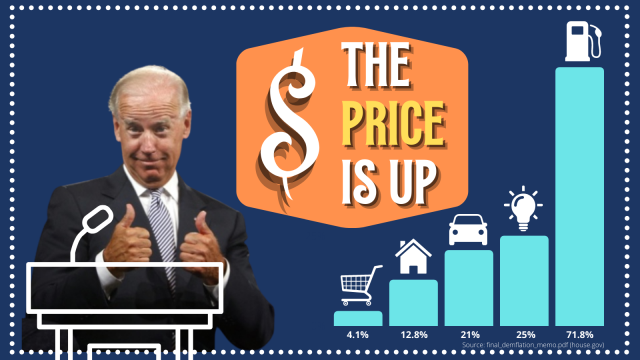 Speaking of spending bills…
The House Rules Committee began meeting this week to set the terms of debate for the first annual spending bill for fiscal year 2022. There's just one problem: It's actually six spending bills rolled into one.  This is unfortunate, because it hinders the ability of lawmakers to carefully consider and scrutinize agency budgets before voting on them individually. Instead, it sets up a situation where Congress will cast a single vote on a massive, $600 billion package, with limited opportunities to try and improve or study the legislation. Even so, this week I proposed a few amendments. The first would prohibit the Biden administration from "re-listing" the gray wolf as a threatened or endangered species – and protect the right of Wisconsinites to make their own wildlife management decisions. The second would block implementation of an unfair USDA debt relief program that doles out assistance based on skin color – a partisan and unconstitutional program Telegram readers know I've been trying to shut down since it was first signed into law. The third would make sure that non-citizens are not collecting certain forms of taxpayer-funded assistance – making sure that America is not importing foreign welfare recipients, and instead limiting the application of these safety-net programs to truly vulnerable American citizens. Congress functions more effectively when lawmakers can openly discuss, debate and vote on competing ideas, and I hope the majority will allow that to happen next week.  You can read more about the underlying spending bill that's coming up, and scroll down to see some of the different amendment ideas that have been put forward for consideration, including my own, here.

A White House-Facebook censorship partnership?
President Biden's press secretary raised eyebrows late last week when she admitted that the White House is working with Facebook to censor "problematic" social media posts – something that Big Tech repeatedly denied they were doing before getting caught red-handed late last year.  This week, I joined several of my colleagues in penning a letter to President Biden demanding answers. Freedom of speech is a bedrock principle of our democratic system. It is protected by the First Amendment, and the White House has no right to use the long arm of government to try and stifle free and open debate.  You can read about our effort, and the letter we sent here.

Race-based housing assistance?
First it was a USDA loan assistance program exclusively for minority farmers. Then it was an unfair Small Business Administration assistance program that penalized some restaurant owners and rewarded others based on race. Now some Democrats are calling for new rules that would treat Americans differently based on skin color when it comes to assisting them with a down payment on a home. This outrageous proposal would reportedly provide an extra $5,000 in assistance to prospective first-time homebuyers – but only if they aren't white. I am strongly opposed to policies like this, which are both unfair and unconstitutional. Government should never be in the business of preferring people of one race over those of another. The best way for government to stamp out racial discrimination is to stop doing the discriminating.
---
Committee Update
Committee on Natural Resources
This week I introduced the RAPID Act, which will allow for more active management of our forests and in turn reduce the risk of wildfires. In 2018, more than 6 million acres of trees died due to insects and disease. The RAPID Act, which stands for Responding Aggressively to Prevent Insects and Disease Act, would help the Forest Service address insect and disease outbreaks in Wisconsin from threats like Beech Bark disease and the Emerald Ash Borer. What my bill does is expand the Forest Service's expedited "categorical exclusion" authorities from 3,000 acres to 10,000 acres and include areas at acute risk for wildfire -- allowing the Forest Service to treat areas in our district more effectively. Expanding these categorical exclusion authorities cuts red tape and allows the Forest Service to move forest management projects forward by speeding up lengthy planning and analysis requirements under the National Environmental Policy Act. By accelerating the timelines on forest health projects, we can decrease the risk of dangerous wildfires and restore ecological balance more effectively. That means better wildlife habitat, cleaner air and water, safer communities and stronger local economies. My bill, which is endorsed by the Federal Forest Resource Coalition, was also included in Ranking Member Bruce Westerman's Resilient Federal Forests Act. I look forward to continuing work with my colleagues to keep finding solutions to improve the health and sustainability of our national forests and public lands.
It's no secret that we need more active management of our forests.
Click to watch for more on the RAPID Act.

Biden Bureau of Land Management nominee linked to eco-terrorist group
Today I called on Wisconsin's two senators to oppose the nomination of Tracy Stone-Manning to lead the Bureau of Land Management. Investigative reports recently revealed links between Ms. Stone-Manning and an eco-terrorist group, as well as ties to one of the group's tree-spiking schemes. She subsequently lied about her involvement under oath in a background check questionnaire. Tree spiking is when a metal rod is hammered into a tree trunk with the intent of damaging or destroying the saws used by firefighters or loggers. The spikes can also become jammed in mill equipment, causing damage, serious bodily injuries, or even death. Our federal lands are governed by the multiple-use philosophy – and that means a balanced approach to recreation, conservation, energy development, mining and timber harvesting. Someone with Ms. Stone-Manning's dark background make her unfit to carry out this mandate or act as an honest broker when it comes to land management decisions. You can read my statement here.
 
---
World's Largest Penny Dedication Ceremony
This week my staff attended the World's Largest Penny Dedication Ceremony where they presented a certificate to commemorate its designation as Wisconsin Historical Marker 595. The World's Largest Penny was dedicated on May 29, 1954 as a tribute to the staff and students of Arbor Vitae-Woodruff School. It is made of concrete block and is 10 feet in diameter, 18 inches thick, and weighs 17,452 pounds. In 1952, Otto Burich and his geometry students led a district-wide campaign to collect one million pennies to raise funds for a local hospital. In all, 1,700,000 pennies were collected in just 104 days from 48 states.  On Memorial Day in 1953, 10,000 people attended the Million Penny Parade in Woodruff to celebrate the achievement. Not only were the students able to save the hospital project, but they also put Woodruff on the international map!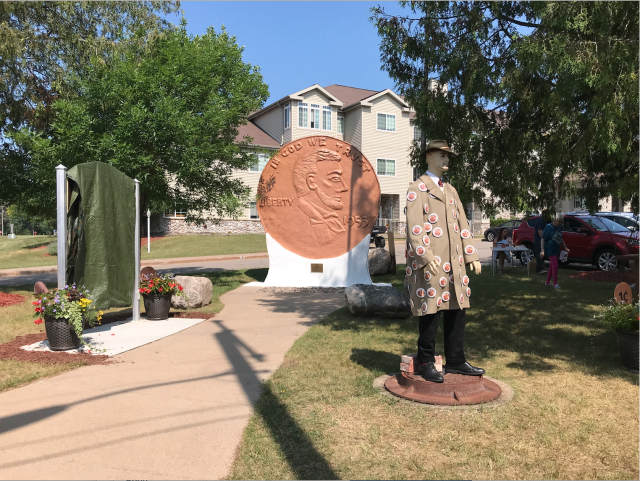 ---
Upcoming Events
Join Congressman Tiffany and Congressman Scott Fitzgerald (WI-05) for the next Telephone Town Hall on Congress's reckless spending and rising inflation.

Telephone Town Hall on Government Spending and Inflation
Tuesday, July 27, 2021 at 5:30pm CT
Call (833) 946-1523 at 5:30 CT to join or sign up here.