The Tiffany Telegram: January 7, 2022
Dear Friend,

We are back with 2022's first edition of the Telegram, and I wanted to begin by wishing you all a Happy and Healthy New Year. 

Chris and I spent Christmas together with our family, and we hope you were able to do the same. 

We've been enjoying ideal snow conditions across the district, providing a great opportunity for folks to get out to ski, sled and ice fish – and we hope you've been able to take advantage of it.

As we enter 2022, I wanted to let you know that I will continue to represent your interests and fight for our shared Wisconsin values in the nation's capital.

From opening new economic opportunities for farmers and small businesses to defending individual freedom to keeping our classrooms open for in-person schooling, I am committed to working hard to make sure this year is better than 2021.

Thanks again for spending some of your Friday with us.

Happy New Year,


Tom Tiffany
Member of Congress
---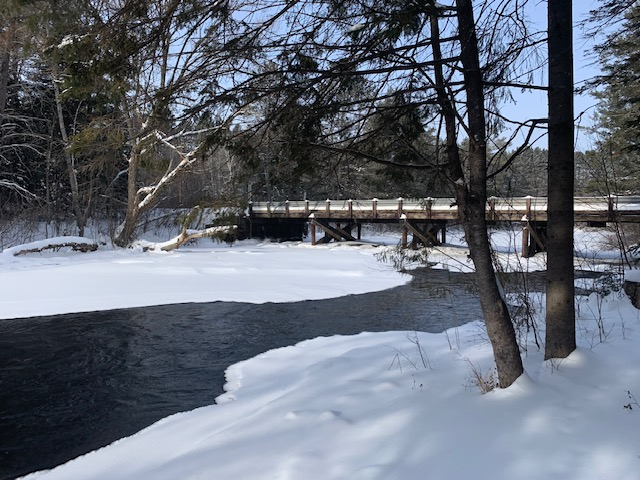 Happy New Year from Northern Wisconsin!
---
Keeping our kids in class
As COVID-19 infections rise across the country, many parents are understandably concerned about the impact the omicron variant will have on the lives and education of their children. During the early days of the pandemic, many schools across the country were shuttered. But now, some two years in, I believe we have the tools and resources to keep our schools open – something we all know is in the best interest of our kids.  Since March 2020, the federal government has provided $190 billion in pandemic aid to schools to upgrade their mitigation systems and get kids back in the classroom safely. Unfortunately, as you may have read, the teachers union in Chicago recently decided to walk out on their students. As I write to you now, the union has still not allowed teachers there to return to the classroom. Worryingly, we've seen other teachers unions across the country looking to follow their lead – pushing a return to remote learning. I was pleased to see Education Secretary Miguel Cardona take a stand by saying that students have suffered enough and that schools should stay open. I could not agree more. Last year's school closures were extremely hard on parents and students, leading to significant learning loss. That's a scenario we cannot afford to repeat this academic year. We owe it to our kids to work together to maintain in-person instruction. 

Supreme Court to take shot at jab-or-job mandate
Today, the Supreme Court began hearing oral arguments on challenges to whether or not the Biden administration can force millions of American workers at private companies to get the jab. The court is expected to make a swift decision that could either freeze the mandate and its requirements on businesses with more than 100 employees or allow this controversial mandate to proceed. If the court allows Biden's jab-or-job mandate to stand, the Occupational Safety and Health Administration has said that it could start fining businesses that fail to comply as early as next week.

Making America's Navy more "Superior"
As Telegram readers know, Rep. Pete Stauber of Minnesota and I have been working hard to allow shipyards like Fraser in Superior to take on a larger role when it comes to helping with the maintenance needs of America's military. Fraser already does a fantastic job supporting our Navy and Coast Guard – and they have the capacity, expertise, and drive to do much more. Our armed forces must be equipped to meet the challenges of the future. Fraser can help us meet that goal, and act as a force multiplier as we work to address significant maintenance backlogs and an aging fleet. As our fleet changes, the Navy needs the flexibility to address short-term requirements in times of high demand. Non-homeport shipyards can help provide that vital surge capacity. I've been working on this issue since I first came to Congress because I believe we need to support our smaller shipyards and local economies by creating employment opportunities and fair competition. I will continue to seek out those opportunities and the economic benefits that come along with them. Not only is this a good way to boost job growth in the Twin Ports region, it will also contribute to improving America's national security.

Energy policies fueling increase in fertilizer costs
One thing you may have read about recently is an uptick in fertilizer prices, and this is something that is going to impact farmers and consumers alike. In some instances, the cost of fertilizer has increased as much as 300% according to the American Farm Bureau Federation. As farmers now map out the 2022 growing season, this increase in the cost of fertilizer will lead to an increase in price of produce we buy at the grocery store. One of the main factors that is contributing to this price spike is higher energy prices, which can be directly traced to changes in energy policy from this administration. This goes to show that restrictive energy polices have cascading effects on things other than the price at the pump – and has ripple effects in every industry. These fertilizer prices are just one example of just how important it is to have affordable energy, so we can keep a lot of other goods and services affordable as well. 

Getting Wisconsin rail service back on track
Recently, the Surface Transportation Board (STB) signed off on the sale of unused rail lines in Wisconsin and Upper Michigan. Telegram readers know that I have been working on this issue since my days in the Wisconsin Legislature. Updating old lines, expanding access and providing consistent service and competitive prices will go a long way in strengthening the vitality of the Wisconsin economy, especially in the 7th Congressional District. I have been working with Watco and STB to aid in the rehabilitation and the implementation of these promising shipping opportunities, and we'll keep you updated as this process moves forward in the New Year.
 
Verso merger could point to opportunity for Wisconsin Rapids
Verso and Scandinavian company BillerudKorsnäs entered into a definitive merger agreement last month, giving hope that the mill will return to full capacity. I look forward to working with BillerudKorsnäs to make sure the new company fully reopens the Wisconsin Rapids mill – something that would benefit the state's economy and improve the environment. I believe reopening the Wisconsin Rapids facility would be a win-win proposition that will create and sustain good family-wage jobs at the mill, support indirect jobs in the trucking and logging sectors that feed the mill and promote better forest health and land management as well. This is a golden opportunity for Wisconsin and for BillerudKorsnäs – one we cannot afford to squander.
 
Good News from Wisconsin's 7th District

New Year's Baby

Rowan Allan Hendrick the first baby of 2022 born in Hudson arrived at 9:03 a.m. on New Year's Day. Congratulations to parents Kiley and Charlie Hendrick on your new bundle of joy!
 
---
Alice in Dairyland   

The Wisconsin Department of Agriculture, Trade, and Consumer Protection invites individuals with a passion for promoting agriculture to apply for the 75th Alice in Dairyland position through February 4th. 
---
Level III Trauma Center 

Congratulations to the Marshfield Medical Center-Minocqua on being designated as a Level III trauma center! The new designation will allow them to provide state-of-the-art, best-practice trauma care in the Northwoods. 
---
                                  Resources  
As many begin to travel internationally again, the Department of State is available to assist with passport services. We recommend to apply at least six months before planned travel as routine service may take up to about 18 weeks. For more information, please visit travel.state.gov.

The USDA continues to make resources and assistance available to agricultural producers and working families to ensure access, safety and stability for food markets and supplies. 

Small businesses can also apply for assistance through the Economic Injury and Disaster Loan program. This program provides economic relief to businesses that are currently experiencing a temporary loss of revenue as a result of the pandemic.

If a friend forwarded you this newsletter, and you would like to receive it in the future, you can subscribe here for weekly updates and connect with me on Twitter, Facebook, and Instagram. 

As always, you are welcome to visit my website or to contact my offices in Washington, DC or Wisconsin, which remain open for service, if you have any questions or need assistance.