The Tiffany Telegram: January 29, 2021
Dear Friend,

Before we get started, we just wanted to thank all of you who are sharing the Telegram with your friends and neighbors and we hope you'll keep doing so. And remember you can always direct folks interested in learning more about what's happening in Wisconsin and Washington to our website, where they can subscribe to our weekly update and see what we're working on.

This week I was appointed to serve on two committees during the 117th Congress. I retained my seat on the House Judiciary Committee, which has jurisdiction over key policy issues related to constitutional questions, crime, terrorism, immigration, anti-trust law, the federal judiciary and civil rights.  I also secured a seat on the House Committee on Natural Resources, which oversees federal land agencies like the Forest Service, Bureau of Land Management and National Park Service, tackles key issues like forest and wildlife management, mining and energy development on public lands, water and power and policies related to Indian Tribes, U.S. territories and insular areas such as Puerto Rico and the Commonwealth of the Northern Mariana Islands.

Closer to home you may have seen that the State Senate gave preliminary approval to legislation that would rein in Governor Evers' prolonged emergency order mandating the use of face masks. While I am not a member of the state legislature and did not vote on this legislation, I have been receiving calls from many of you asking for more information about this effort and wanted to keep you updated.  The bill legislators passed does not prohibit or restrict mask use. It represents a check and balance to the governor's attempt to impose open-ended, sweeping "emergency" orders without coming to the state legislature for approval. Whether one supports a mask requirement or not, we can all agree that the executive branch should not have the authority to simply rule by decree.

This week we also observed Holocaust Remembrance Day – the anniversary date of the liberation of the Auschwitz-Birkenau death camp. It is a sober time for all of us to honor the victims of the Holocaust and renew our efforts to prevent such horrors from being repeated in the future. Sadly, we continue to see people around the world targeted for systematic persecution, violence, sterilization and even death for their race, ethnicity, and religion. As Telegram readers know, bipartisan majorities in Congress have taken aim at the government of Communist China for its actions against ethnic Uyghurs, who have been forced into concentration camps and subjected to shocking human rights abuses.  The U.S. State Department recently determined that China's actions constitute genocide, and policymakers must work together to ensure that "Never Again" is not just a slogan.
In this week's edition of the Telegram we want to tell you about:
Preventing "court packing" and defending the integrity of the Supreme Court
This week I joined my colleagues in backing an amendment to the constitution that would fix the number of Supreme Court justices at nine. This would head off partisan efforts to expand the nation's highest court and dilute the independence of the judicial branch. I believe that it is important to protect constitutional separation of powers, something a "court packing" scheme would undermine. Despite numerous highly polarized attempts to change the size of the Supreme Court throughout our history, it has remained at nine justices for over 150 years. Now, more than ever, it is critical we preserve the credibility of the judicial branch and maintain the long-standing structure of our highest court. You can take a look at the proposed constitutional amendment here.
Spending bonanza reveals fraud, mismanagement
California officials recently confirmed that a whopping $11.4 billion in unemployment benefits paid out during the COVID-19 pandemic have been, or are currently being, investigated as fraud. While this is disappointing, it is not surprising. When politicians rubber-stamp such huge public expenditures with little debate and even less oversight, widespread waste, fraud and abuse tend to be the result. Sadly, California is hardly alone when it comes to poor administration of jobless benefits. As Telegram readers know, Wisconsin has also struggled to make sure that payments are being received by those who need them in a timely fashion, according to the state's Legislative Fiscal Bureau. You can read more about the situation in Wisconsin here.  This is a cautionary tale for taxpayers as Congress prepares to consider another budget-busting $1.9 trillion spending bill – even as the ink has barely dried on the blowout $2.3 trillion package Congress just approved. We must take care to ensure that we that we are not throwing good money after bad and adding trillions in new debt first and asking important questions later.

The human cost of school closures
As the majority of our K-12 schools throughout the 7th Congressional District are currently operating on a full in-person or hybrid teaching model I would like to draw your attention to a different part of the country this week. The New York Times published a story on Sunday highlighting the heartbreaking impact that overreaching quarantine models and mandatory distance learning have had on children's mental health. Clark County school district in Nevada uses an early-warning system that monitors students' mental health episodes when they are in a virtual learning setting. Since March, district officials have received more than 3,100 alerts ranging from suicidal thoughts, possible self-harm, or need for care in homes with negligent parental figures. Since the implementation of that system, 18 students have taken their own lives. These months of all-virtual learning will have mental health implications for children for years to come, something I have often warned about, and while parents and community leaders in our district have worked hard to keep our kids in school, there are millions of children across the country who have not been so lucky. We cannot continue to exacerbate these issues by isolating students at home and failing to provide in-person resources for behavioral health needs.

WHO updates guidance on COVID tests amid "false positives"
On January 20, the World Health Organization issued an advisory for labs processing PCR tests to carefully follow the instructions for processing in order to determine the presence of the virus causing a positive COVID-19 test result. The WHO guidance for diagnostic testing now clearly states that a weak positive test result should be revisited in the lab and possibly requires retesting using an antigen or lateral flow test. This guidance comes as the result of PCR tests being called into question based on an exceedingly high number of false positives. It was often determined to be an error on the part of lab practitioners who were incorrectly adjusting the PCR positivity threshold. The WHO is now admitting that a positive test result on a PCR test may not mean a guaranteed case of COVID-19. Far more critical than the test result is the actual presence of symptoms, a fact I have emphasized for months in the battle to keep schools open for in-person learning. Some have used fear mongering tactics that not only penalize people who may never even have COVID-19, but also politicize results through over-testing – which depletes supplies in communities with lower accessibility.
District COVID update
In the past week the number of positive cases each day has continued to drop significantly with the statewide 7-day average nearing fewer than 1,700 new cases each day. While the positive cases are still higher than we would like to see at this stage in the pandemic these numbers mark major improvement from November and December when we measured upwards of 5,000 new cases each day. In the 7th district, our hospital capacity remains stable in both the North Central and Northwest regions with bed capacity holding steady at 80 percent and 70 percent of total capacity respectively.     

Vaccine update
This week several major announcements came out of the Governor's office and the Department of Health Services (DHS). As of Monday, Wisconsin residents over the age of 65 are now eligible to receive the vaccine. DHS is directing those individuals to check with your healthcare provider as the first step for trying to schedule a vaccination appointment. If your healthcare provider is not doing vaccinations, you can then utilize DHS or your local health department to coordinate other options. In addition to residents over 65, frontline healthcare workers, fire and police personnel, and correctional staff are all eligible. If you fall into one of those categories and have not yet received the vaccine, please check with your employer or use DHS as a secondary option. Additionally, Governor Evers announced earlier this week that the next phase of eligible residents will include education and childcare workers, individuals enrolled in Medicaid, non-frontline healthcare personnel, public-facing essential workers i.e. grocery employees, and staff and residents in congregate living. The estimated date for that group to begin receiving their first dose is March 1 based on the supplies currently available, however the date may change as we get closer to FDA approval for other brands. If you have any questions regarding your vaccine status please utilize the DHS website.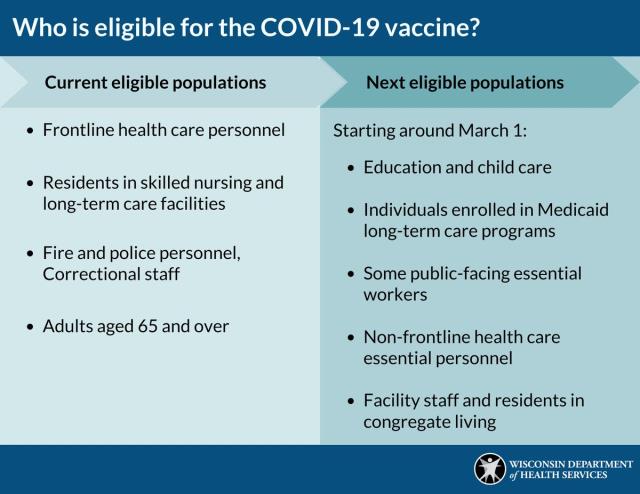 Source: @DHSWI


In case you missed it…
We wanted to congratulate Caleb Peterson of Barron for his acceptance to the United States Military Academy at West Point. Every year students across the country apply to serve their country and receive a top-notch education at one of five U.S. Service Academies:  The U.S. Military Academy in West Point, New York, the U.S. Naval Academy in Annapolis, Maryland, the U.S. Air Force Academy in Colorado Springs, Colorado, the U.S. Merchant Marine Academy in Kings Point, New York, and the U.S. Coast Guard Academy in New London, Connecticut. Each of the Service Academies except the U.S. Coast Guard Academy require a nomination from the student's Congressman, Senator or the Vice President. Should you or someone you know be interested in attending one of our fine academies, you can find more information here.

Regional Assistance  
In addition to my Wausau and Washington, DC offices, you can reach my staff located in various parts of the district by phone in the location most convenient to you (Note: These lines have 202 area codes as they are connected directly through the US House of Representatives system in Washington, DC):

Hayward:        (202) 510-2790
                        P.O. Box 586
                        Hayward, WI 54843

Hudson:           (202) 510-8993


Coronavirus Response Resources  
The USDA continues to make resources and assistance available to agricultural producers and working families to ensure access, safety and stability for food markets and supplies. 

The Paycheck Protection Program (PPP) is accepting applications. The PPP program provides assistance to employers negatively affected by the public health emergency. 

Small businesses can also apply for assistance through the Economic Injury and Disaster Loan program. This program provides economic relief to businesses that are currently experiencing a temporary loss of revenue as a result of the pandemic.

If a friend forwarded you this newsletter, and you would like to receive it in the future, you can sign up here, and don't forget to connect with me on Twitter, Facebook, and Instagram. 

As always, you are welcome to visit my website or to contact my offices in Washington, DC or Wisconsin, which remain open for service, if you have any questions or need assistance. 
Sincerely,

Tom Tiffany
Member of Congress