The Tiffany Telegram: January 22, 2020
Dear Friend,
This week we saw the inauguration of Joe Biden as America's 46th president, and the end of President Trump's term. Over the last four years we have seen a lot of big steps taken to move our country forward. President Trump's policies resulted in the creation of some 7 million new jobs prior to the outbreak of the Wuhan Coronavirus in Communist China last March. Middle class families saw thousands of dollars in additional income, sweeping tax and regulatory changes that expanded opportunity for small businesses and record low jobless rates – including for women, African-Americans, Asian-Americans and Latinos. President Trump also delivered relief for millions of Americans struggling under the overbearing restrictions imposed by Obamacare – rescinding the "individual mandate."

Other domestic policy wins included achieving American energy independence – something many presidents promised, but none delivered – the removal of the gray wolf from the federal threatened and endangered species list, better border security and the appointment of more than 200 conservative federal judges – including three Supreme Court justices.

On foreign policy, President Trump took steps to confront Communist China's persistent trade and human rights abuses, prodded America's allies to pay their fair share of security costs, canceled the misguided "Iran Deal," defeated ISIS, moved the American Embassy in Israel to Jerusalem and forged unprecedented peace deals in the Middle East. At the same time, he drew down the American military presence in the region, keeping his promise to end decades-long conflicts while keeping the United States out of new wars.

Despite the challenges of the global pandemic, the Trump record has provided a solid foundation for the new administration to build upon, and I look forward to working with the Biden White House and my colleagues in Congress to do the business of the American people in the coming months.

This week we saw some encouraging steps from the incoming President. I joined a bipartisan majority in Congress to support a waiver for President Biden's nominee to head the Pentagon, Retired General Lloyd Austin. I was also pleased to see the President extend a formal inauguration invite to Taiwan's ambassador to the United States, building on the efforts of President Trump and Republicans in Congress – myself included – to deepen our bilateral security and economic ties with our democratic allies in Taipei, despite Communist China's threats and intimidation.

Unfortunately, we also saw some counter-productive steps from the new White House. The administration chose to commit America once again to the Paris climate accord and unilaterally nixed the Keystone pipeline in mid-stream. These moves will kill thousands of jobs, boost energy costs for those who can least afford it, undermine our hard-won achievement of energy independence, and harm the American economy – while allowing China, Russia and other countries to grow their economy with no restrictions.

The President also rolled out a sweeping amnesty proposal that would legalize potentially tens of millions of those who violated our immigration laws, pushing them to the front of the line ahead of those waiting patiently to immigrate here the right way. The plan is so extreme it would even allow previously deported illegal immigrants to return to the United States and be given legal status, while doling out billions more in taxpayer handouts to Latin American countries rife with corruption. The Biden plan would also dramatically increase the number of foreign workers allowed into the United States at a time when many Americans are struggling to find work, hamstrung in their effort by government-imposed business lockdowns and restrictions.

Democrats in Congress have also announced a push to preempt or loosen many state election integrity measures as one of their top priorities. The far-reaching plan would even force hardworking taxpayers to fund partisan political ads, pouring your tax dollars into the campaign coffers of wealthy politicians and high-dollar campaign consultants. This is a bad idea, one we can't afford, and which I strongly oppose.

We also saw Governor Evers' top health aide, Andrea Palm, tapped to return to Washington to work for the new administration despite a poor record in our home state. Wisconsin ranks 47 out of 50 states in per-capita vaccine distribution, and we told you last year about questions with Palm's calculations when it came to positive test rate reporting. In short, it is disappointing to see Palm cycling back to Washington through the Beltway revolving door – particularly after doing such a dismal job in Wisconsin. More on that later.
In this week's Telegram, we want to tell you about:
Pushing for a vote on the Paris Climate Treaty
As we mentioned, The Biden administration has decided to push Americans back into the Paris climate accord with an executive order. This global framework will profoundly harm working families, driving up energy prices, putting us at a competitive disadvantage with our foreign rivals, killing millions of jobs and costing Americans trillions of dollars. And this binding international pact could be forced on to all of us without a vote in Congress. This is unacceptable, and that's why I plan to co-introduce legislation with my colleague Rep. Anthony Gonzalez of Ohio that would block the expenditure of any funds or government resources to impose this United Nations-endorsed directive on the American people without Senate ratification. The Paris agreement is designed to function as a binding international treaty, and it should be treated as one under our Constitution – not simply enacted by Presidential decree.
Fighting for more active wolf management in Wisconsin
On Friday I participated in a hearing held by the Wisconsin Natural Resources Board, the governing panel for the Department of Natural Resources, to voice my support for the immediate authorization of a wolf hunt as part of stepped-up state management efforts now that the wolf has recovered to the point of being removed from the federal threatened and endangered species list.  Our state needs a wolf hunting season, our sportsmen want it, and they are all counting on their state wildlife managers to deliver. As Telegram readers know, I also introduced legislation to stop a partisan "re-listing" of the wolf by the new administration.  For too long, species conservation decisions have been driven by shifting political winds and agenda driven lawsuits. I am committed to doing everything I can to keep Wisconsin communities in charge of Wisconsin wolf management, and to making sure Washington, DC bureaucrats and Big City political operatives don't interfere. You can read about my bill here.
Keeping Keystone online
We mentioned the unfortunate step President Biden took this week to rip up the Keystone XL pipeline permit issued several years ago that green-lit this key energy security project. The cancellation was a slap in the face to our Canadian neighbors. It will also have a direct impact on our state economy, where the pipeline supports jobs and employers who rely on projects like Keystone for their livelihoods. This action could not come at a worse time, as so many people in our communities are struggling to pay their bills and make ends meet. That's why I joined several of my Wisconsin colleagues this week asking President Biden to reconsider this devastating decision and allow for the completion of this critically important pipeline. You can read the letter we sent here, and see what Wisconsin lawmakers had to say about President Biden's move here.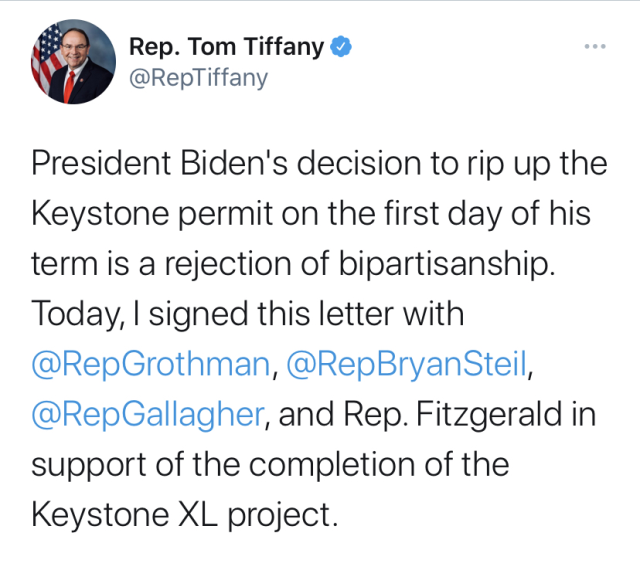 Disturbing treatment of our military
Over the last few days, there have been disturbing images and reports of some of our National Guard and elite troops like our Army Airborne currently deployed to the U.S. Capitol area being subjected to some pretty outrageous treatment.  Soldiers were stuck sleeping on the stone floors of complex buildings for a time, and later banished to a parking garage when Congress returned to the city for inaugural activities and legislative business. Even worse, there are reports that personnel assigned to security duties in the capital region may have been subjected to a political litmus test. I am deeply opposed to politicizing our military, as well as the unprecedented and prolonged deployment of our men in women in uniform on Capitol Hill.  Our military take an oath to support and defend the constitution. They do not pledge allegiance to a political party. They deserve better than this, and Congress must get to the bottom of these reports.

Holding broadband companies accountable
This week I signed on to a bipartisan letter addressed to the Federal Communications Commission (FCC) about the Rural Digital Opportunity Fund, which awarded more than $9.2 billion to companies across the country to help deploy fast and reliable broadband. It is key that the companies that received this money are reliable enough to meet the project's deadlines and bring high quality service to rural areas. That is why I joined several of my colleagues in pressing the FCC to be responsible in their selection process and allocate funds only to companies that can achieve the project's goals. Rural America deserves the same digital opportunities that exist in urban areas when it comes to internet access, so we must ensure that rural taxpayers are getting their money's worth. You can view the letter here.
Poor performance nets Palm promotion
Like many Wisconsinites, I was disappointed to see Andrea Palm tapped by President Biden to become Deputy Secretary of the Department of Health and Human Services (HHS). This appointment means Ms. Palm will now be the number two health official in the entire country. Given her poor performance in our state throughout the course of the pandemic response, many people are understandably concerned about this appointment. Palm helped spearhead the statewide stay-at-home order that directly contributed to the closures of hundreds of small businesses throughout the state. Additionally, Palm has served as the major point of contact for our statewide vaccine distribution plan, which has been disappointing relative to other Midwestern states and the rest of the country. In fact, the plans for Phase 1b allocation were not finalized until yesterday – leaving Wisconsinites and HHS distribution officials with many lingering questions. As we move forward, lawmakers must exercise rigorous oversight, and hold HHS leaders and the broader administration accountable for their performance.

District COVID Update
Wisconsin continues to see a significant decline in the number of positive cases being reported each day as well as a drop in the number of COVID patients requiring hospitalization. In the North Central region our hospitals are currently reporting 80 percent of bed capacity filled, and the Northwest region is reporting 70 percent. Both numbers are an improvement from last week. On the vaccination front, more than 540,000 Wisconsinites have received the first vaccine dose. The next phase of frontline essential workers including police officers and firefighters became eligible to receive the vaccine as of Monday. Based on a decision from the State Disaster Medical Advisory Committee this week, grocery store employees and public transit workers will join K-12 teachers and prisoners in the next section of Phase 1b distribution. Additionally, beginning next week residents aged 65 and older will be able to register with their local Department of Health Services point of contact for a scheduled vaccine time slot.
 
---

 Tom attends The World Championship Snowmobile Derby with Senator Felzkowski and
Rep. Swearingen in Eagle River, WI. 
 
---

In case you missed it…
This week America lost a sporting legend with the passing of baseball great Hank Aaron.  Aaron spent more than two decades hitting home runs in the major leagues, including several seasons wearing a Milwaukee uniform. What many people don't know is that he started his career as a minor league slugger with the Eau Claire Bears in Northern Wisconsin. The Wisconsin State Journal did a nice tribute to "Hammerin' Hank" today.  You can read it here.

We also lost former Packer's General Manager Ted Thompson, who built a Super Bowl team, continued a winning tradition in Green Bay and who's fingerprints are all over a team on the cusp of another title. You can read more about his legacy here.

Finally, for those of you who haven't seen it, we also wanted to share a brief video of NFL greats Drew Brees and Tom Brady catching up after last week's Saints vs. Buccaneers playoff game. Both are class acts, and the video reminds us that even the fiercest competitors can still be friends.

Regional Assistance  
In addition to my Wausau and Washington, DC offices, you can reach my staff located in various parts of the district by phone in the location most convenient to you (Note: These lines have 202 area codes as they are connected directly through the US House of Representatives system in Washington, DC):

Hayward:        (202) 510-2790
                        P.O. Box 586
                        Hayward, WI 54843

Hudson:           (202) 510-8993

Coronavirus Response Resources  
The USDA continues to make resources and assistance available to agricultural producers and working families to ensure access, safety and stability for food markets and supplies. 

Small businesses can also apply for assistance through the Economic Injury and Disaster Loan program. This program provides economic relief to businesses that are currently experiencing a temporary loss of revenue as a result of the pandemic.

The Paycheck Protection Program (PPP) is accepting applications. The PPP program provides assistance to employers negatively affected by the public health emergency. 

If a friend forwarded you this newsletter, and you would like to receive it in the future, you can sign up here, and don't forget to connect with me on Twitter, Facebook, and Instagram. 

As always, you are welcome to visit my website or to contact my offices in Washington, DC or Wisconsin, which remain open for service, if you have any questions or need assistance. 
Sincerely,

Tom Tiffany
Member of Congress