The Tiffany Telegram: February 19, 2021
Dear Friend,
The House of Representatives did not convene for legislative activity this week, so I spent time holding several well-attended listening sessions across the district to hear what folks had to say. More on that later.

I also received my subcommittee assignments on the House Natural Resources and Judiciary Committees, specialized panels that focus on specific areas of public policy within the larger framework of the full committees. 

On Natural Resources, I was appointed to the Energy and Minerals Subcommittee, and the Parks, Forests and Public Lands Subcommittee. I was chosen as the Vice Ranking Member of the latter subcommittee (the "Ranking Member" is the term used to describe the highest "ranking" member of the minority party on a committee).  I'm looking forward to working with my colleagues on these panels during the 117th Congress to promote American energy dominance, expanded access to public land, better forest management, responsible resource and energy development and stronger rural economies.

On Judiciary, I was chosen to serve on three subcommittees – the Crime, Terrorism and Homeland Security Subcommittee, the Immigration and Citizenship Subcommittee, and the Subcommittee on Courts, Intellectual Property and the Internet. These appointments will give me an opportunity to fight for better border security and immigration enforcement, protect free speech and hold "Big Tech" companies accountable, combat Chinese IP theft, and support men and women in law enforcement who work each day to keep our communities safe by putting bad guys behind bars.

We also received some new information about the deadly breach of the U.S. Capitol in January, as news agencies quietly walked back previous reports about the tragic death of U.S. Capitol Policeman Brian Sicknick. Initial reports claimed that Officer Sicknick was killed after being struck by a fire extinguisher in the melee – a claim that the evidence does not seem to support. You can read more about those developments here. 

We also learned that news organizations have made large cash payments to some of the extremists who participated in violence at the Capitol on January 6 – allowing people who engaged in violence and property destruction to profit from their criminal activity. This is wrong, and I hope these outlets will think twice in the future about providing financial rewards to people who break the law.
In this week's edition of the Telegram we want to tell you about:
District listening sessions
We held multiple listening sessions this week in the district, meeting with folks to discuss their concerns and what's happening in Washington, DC and Madison. We had a great turnout at each location despite the cold weather (we had about 50 people show up in Spooner at 7am on Wednesday in -25 temperatures). The top issue we heard about was election reform, and the need to put better safeguards in place to protect voting integrity and restore confidence in the election process. In fact, during stops in Marshfield and Cumberland, this topic dominated the conversation.
People also expressed concerns about the record-breaking pace of executive orders being issued by President Biden – which have made sweeping policy changes without approval from Congress. One of those Biden orders canceled the Keystone XL Pipeline, which is already resulting in job losses in our state. In Eagle River we heard from one pipeline company employee who said that a crew of 200 of his coworkers are unemployed as a result.
The problem of expanding executive branch power and the use of executive orders by presidents to bypass the legislative branch and make law by decree has been a problem for many years, spanning both Democrat and Republican administrations. And in my short time in Congress I have seen it first hand on both the Natural Resources Committee and the Judiciary Committee. On the Natural Resources panel, committee Democrats ceded our jurisdiction this week on more than $1 billion of President Biden's proposed $1.9 trillion spending package – essentially giving away a blank check. On the Judiciary Committee, which has jurisdiction over immigration policy, the majority has done nothing as President Biden has issued edicts refusing to enforce existing laws, while effectively rewriting others. I hope that in the coming months we can work together across party lines to restore appropriate checks and balances to ensure that Congress takes its legislative and oversight roles seriously rather than simply becoming a rubber stamp for the current administration.
---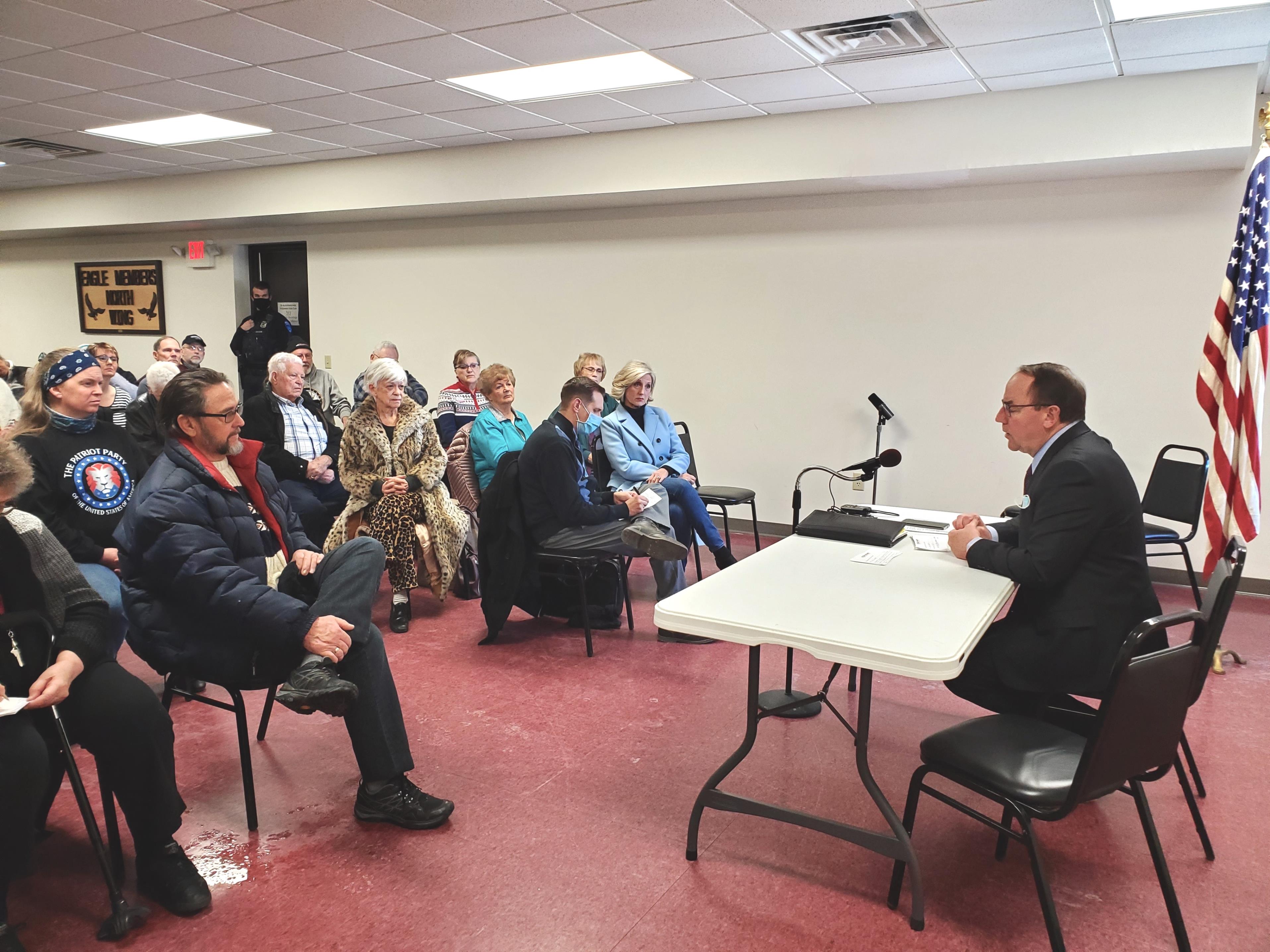 Tom speaks at the Wood County Listening Session in Marshfield, WI.
---
We also talked about the de-listing of the gray wolf and the wolf hunting season approved by the Natural Resources Board, which I have been advocating for. Folks are increasingly concerned about the swelling population of wolves and the fact that these dangerous predators no longer fear humans. The Trump administration's decision to administratively de-list the wolf was a big victory for Wisconsin, and steps like the wolf hunt are a crucial part of effective management efforts and getting a handle on the growing population.
We also heard a lot of concerns about the extreme gun control proposals under discussion in Congress – which I oppose – as well as growing concerns about runaway government spending and mounting debt. Vaccine distribution, the importance of keeping our kids in school, and fresh concerns about power grid reliability in the wake of the Texas deep-freeze this week were also topics of conversation.

Vilas County Sheriff's deputies save a life
On Wednesday, our office presented certificates to Vilas County Sheriff Deputies Benjamin Gauger and Zachary Kozisek, as well as the Vilas County Dispatch Center for saving the life of a man suffering a heart attack on State Highway 70.  As a result of their quick action this man is still alive today. 

On behalf of the entire community, we'd like to thank Deputies Gauger and Kozisek, and all law enforcement who put their lives on the line for us every day.   

Trading cards
During the Sawyer County Listening Session in Hayward, WI, we were honored to be joined by a young constituent, Emmett Al-Moghrabi (6). Emmett kindly shared a trading card for Sawyer County K-9, Trace. In return, I shared a U.S. Capitol Police patch with him for his law enforcement badge collection. Thank you for joining us, Emmett!
---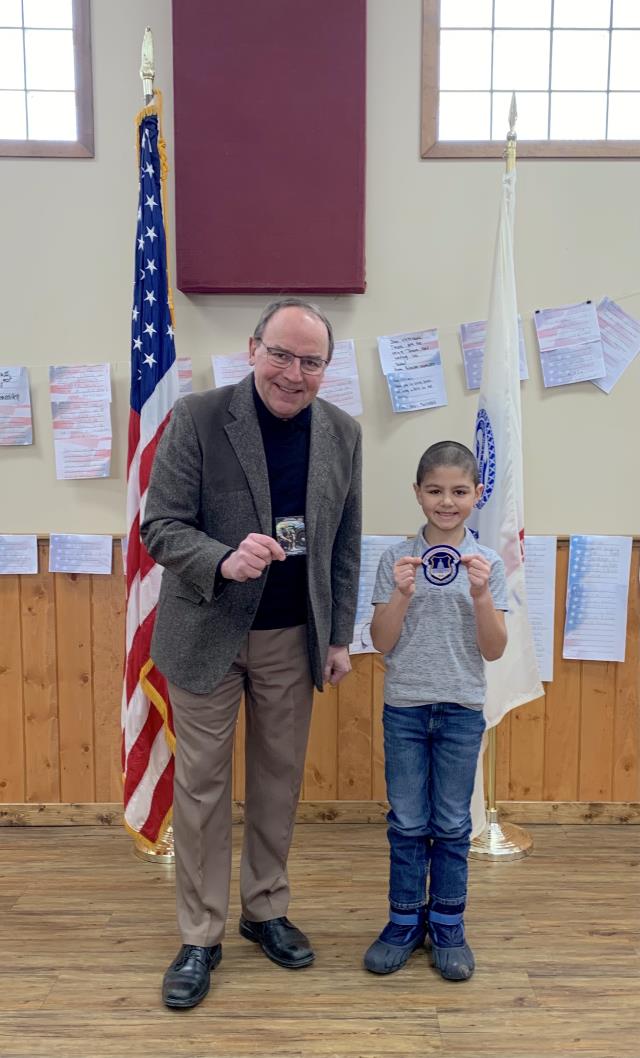 Emmett Al-Moghrabi (6) exchanges K-9 card for U.S. Capitol Police Patch with Tom in Hayward, WI.
Green agenda threatens vaccine storage
Speaking of the Texas deep-freeze, it has been shocking and heart-wrenching to see the challenges facing people in the Lone Star State after a failure of wind turbines resulted in widespread power outages. We have seen water mains and pipes bursting, people facing dangerously low temperatures with no way to heat their homes, and even the loss of life. As news reports trickled out this week, we also learned that vaccine distribution and storage is under threat due to the power crisis. The situation unfolding in Texas is a stark reminder of how dangerous it is to pursue ideologically driven "green energy" policies at the expense of reliable, baseload energy sources for our electricity. The bottom line is that the wind doesn't always blow, and short-changing reliable sources of power for intermittent ones is a risky and expensive gamble – one America can't afford. You can read more about the situation here. 

Protecting Access to American energy
We have seen first-hand how relying too heavily on intermittent "green energy" like wind and solar power can quickly result in unreliable electrical service, putting people's lives at risk.  That's one reason I joined more than 100 of my colleagues in asking President Biden to reverse his recent executive order imposing an oil and gas leasing moratorium. This executive order will harm our economy and make America less energy secure. Ironically, it will also harm conservation efforts, which receive a great deal of funding from energy production. Stopping new leases for oil and gas on federal land will have a severe impact on America's energy independence, the effects of which will be felt all over the country and in every sector of the economy. Instead of making sure that our energy is produced here, where it is done responsibly and efficiently, Biden's order will make us more reliant on foreign countries where environmental protections are weak or non-existent, and where the profits generated can bankroll dangerous regimes, terrorism and line the pockets of corrupt officials. You can read the full letter here.

Better broadband in rural Wisconsin
During a visit to Taylor County, I attended the announcement of a multi-million dollar broadband investment with local officials. Expanded access to broadband is critical to making our communities more competitive. Closing the digital divide between rural and urban America has long been a challenge – one that has come into much sharper focus over the last year as so many of us have been forced to go "remote." You can read more about that announcement here.

Vaccine update
This week marked a positive milestone in vaccination efforts as we hit 1 million doses administered statewide. Additionally, more than 250,000 residents have received their second dose for full vaccination. Wisconsin currently ranks seventh in the country for the number of vaccines in arms, up from 16th last week. Additionally, during President Biden's Milwaukee Town Hall earlier this week he stated that based on supply constraints the general population will likely be eligible for "open season" vaccinations by July, a contradiction to Dr. Fauci's previous timeline of April. My office is working to ensure that we are providing you with the most up to date information on eligibility status and healthcare facility options. Please utilize the COVID-19 resources page on my website for all those informational needs.

In case you missed it...
We also wanted to take a moment to tell you about Pastor Yauo Yang of the Cross Church – one of Wausau's 2019 "People of the Year" – and the leader of The Joseph Project in Wausau.  The Joseph Project is a jobs initiative program that connects those seeking employment with work opportunities. Senator Ron Johnson started the program, which provides classes on teamwork, communication, time management, goal setting, financial literacy and spiritual fitness.  The program also helps participants with transportation to work.  Eleven individuals recently graduated from the program in Wausau and are interviewing with local employers such as Kolbe and Kolbe, Crystal Finishing, Gordon Aluminum and Merrill Steel in hopes of getting hired in a job that will lead to a successful career. Over the past year, The Joseph Project has graduated over 80 area residents!  Pastor Yauo Yang is also the Executive Director of the Gospel TLC and is changing the lives of individuals that truly want to turn their life around. You can read more about Pastor Yauo Yang's inspiring story here.

It's Tournament Time!
Congratulations to all of the area teams that made it to state! Best of luck to you.

Regional Assistance  
In addition to my Wausau and Washington, DC offices, you can reach my staff located in various parts of the district by phone in the location most convenient to you (Note: These lines have 202 area codes as they are connected directly through the US House of Representatives system in Washington, DC):

Hayward:        (202) 510-2790
                        P.O. Box 586
                        Hayward, WI 54843

Hudson:           (202) 510-8993

Coronavirus Response Resources  
The USDA continues to make resources and assistance available to agricultural producers and working families to ensure access, safety and stability for food markets and supplies. 

The Paycheck Protection Program (PPP) is accepting applications. The PPP program provides assistance to employers negatively affected by the public health emergency. 

Small businesses can also apply for assistance through the Economic Injury and Disaster Loan program. This program provides economic relief to businesses that are currently experiencing a temporary loss of revenue as a result of the pandemic.

If a friend forwarded you this newsletter, and you would like to receive it in the future, you can sign up here, and don't forget to connect with me on Twitter, Facebook, and Instagram. 

As always, you are welcome to visit my website or to contact my offices in Washington, DC or Wisconsin, which remain open for service, if you have any questions or need assistance. 

Sincerely,
Tom Tiffany
Member of Congress