The Tiffany Telegram: February 12, 2021
Dear Friend,

This week Wisconsin hit a major milestone in the battle against COVID-19 with more than 800,000 residents vaccinated. In addition, Wisconsin moved into the top spot in the country for the number of vaccines being administered on a daily basis.

Our state now ranks 16th in the country for the total number of doses administered, which is a major improvement from where we were just a few short weeks ago (Telegram readers may recall that Wisconsin ranked 47th out of 50 states in per-capita vaccine distribution as recently as late January).

So what changed? Well, for starters, Governor Evers' now-former top health advisor, Andrea Palm, is no longer in charge of state efforts after moving back to Washington, DC to work for the Biden administration – despite a dismal performance in our state.  She was replaced with Karen Timberlake, the new Interim Secretary for the Wisconsin Department of Health Services.

After having spoken with Ms. Timberlake I'm encouraged that she is committed to trying to move us in the right direction. We are already seeing improvement in the distribution of limited supplies, and I wish her the best of luck in her new position.

In this week's edition of the Telegram we've got some updates for you on…
Big City politicians taking aim at the Second Amendment
Some of the most extreme allies of Speaker Pelosi are taking aim at the constitutionally protected right to keep and bear arms with the most ambitious and far-reaching gun control proposal we've seen in a very long time.  The bill, the Sabika Sheikh Firearm Licensing and Registration Act, would all but erase the Second Amendment, fundamentally undermining the ability of law-abiding citizens to purchase, own and carry guns. Unfortunately, some in the House majority seem obsessed with vilifying and persecuting law-abiding citizens – even as they work to defund the police and seek new and creative ways to reduce the sentences of violent criminals. The bill would, among other things, create new licensing requirements for firearms and ammunition, including the imposition of restrictions on caliber and quantity. It would even require an additional license to display an Antique Firearm inside your home, and an additional license to possess a "military style weapon." The proposal would also mandate new firearm liability insurance, slap new annual fees on gun owners, and create a publicly accessible "Federal Firearm Registration System" database that would be accessible to everyone – including criminals. This legislation also seeks, as a condition for licensing, a mental health evaluation by a government-approved doctor. This misplaced fixation with erasing the Second Amendment does nothing to reduce violent crime while stripping citizens of a God-given constitutional right. A recent RAND Corporation survey, for example, "found no qualifying studies showing that firearm sales reporting, recording, and registration requirements decreased violent crime, mass shootings, or suicide." This power-grab is nothing more than an effort to target law-abiding gun owners for harassment and to dissuade Americans from exercising their basic constitutional right to defend themselves, their families, and their property. Instead of putting law abiding citizens and their constitutional rights in the cross-hairs, we should be focusing on ways to reduce crime and hold those who break the law accountable for their actions. I am deeply opposed to this unconstitutional gun grab and remain committed to defending our Second Amendment rights against the attacks put forward by Big City politicians.

Reopening schools means reopening schools
This week many of you may have seen President Biden's Press Secretary Jen Psaki engaging in Washington-speak when she said that President Biden's goal to have schools "fully reopened" by day 100 of his presidency would be accomplished if "a majority of schools" were "teaching in classrooms…at least one day a week."  It's safe to say that's not what most Americans had in mind when the administration promised to get kids back to school full time. What made the announcement even more puzzling is that President Biden's own CDC Director, Dr. Rochelle Walensky, recently concluded that, "[v]accinations of teachers is not a prerequisite for safely reopening schools." The bottom line is that teaching students in a classroom setting one day per week is not "reopening schools." and we cannot allow that standard to become "the new normal." President Biden seems to be caught between concerned parents and students and the loudest and most extreme voices in the national teachers' unions. Telegram readers know that prolonged school closures have inflicted potentially long-lasting harm on the academic futures of our kids, negatively impacted the mental health of countless students, and pushed many parents already struggling during the pandemic to their breaking point. In addition, a recent study concluded that "each month of school closures costs students between $12,000 and $15,000 in future earnings." In response to this issue, I have signed on to a letter led by Rep. Jason Smith (MO-08) to President Biden asking that he listen to the medical advice of his own CDC Director and reopen schools safely. Our hope is that President Biden will stop playing political games with the future of America's children and end the schoolhouse lockdowns. You can read more about our effort here.

Judge rules in favor of wolf hunt
Telegram readers know we've been pushing hard for a wolf hunt in the wake of the Department of Interior's decision to administratively remove the gray wolf from the list of threatened and endangered species. This week that effort got a boost when a judge orderedGovernor Evers' Department of Natural Resources to follow state law and open a wolf hunting season this month. I hope the governor and the department will avoid delays and move quickly to comply with this important ruling.

Personalizing your health care
I joined several of my colleagues recently in backing the Personalized Care Act by Rep. Chip Roy (TX-21). The bill will extend more control to Americans when it comes to their healthcare choices by expanding Health Savings Accounts (HSAs) to allow for greater annual contributions and eliminating regulatory confusion. The bill allows for annual contributions to increase from $3,600 (2021 limit) to $10,800 for individuals and $7,200 to $29,500 for families. These increases will help to address the increasing cost of insurance and out-of-pocket expenses by allowing people to save more in the short-term. In addition, the bill expands eligible usage by extending eligible HSA withdrawals to include direct medical care fees, healthcare sharing ministry fees, and insurance premiums. Allowing people to save more for their personal healthcare will not only reduce costs to the consumer long-term but also drastically reduces the current healthcare bureaucracy we have in place. Let's give people more power over their own health care – instead of putting more control in the hands of Washington, DC bureaucrats.  

Ending lockdowns, the best "stimulus"
When Wisconsin's Supreme Court invalidated Governor Evers' job-killing "stay at home order" last year, they didn't just strike a blow for individual freedom and the right of employers and workers to make a living. It turns out they also saved Wisconsin taxpayers more than $1 billion. The Wall Street Journal published a recent analysis breaking down the numbers, noting that "Wisconsin businesses benefited from generally looser restrictions on business than in neighbors Illinois and Minnesota after a number of court reversals and legislative challenges to restrictions imposed by Gov. Evers, a Democrat." This may explain why I've seen so many Minnesota license plates in the western part of our district over the last few months, as folks from over the border in Minnesota flee the lockdowns in their state for the relative freedom and opportunity available in ours. The bottom line is this: It doesn't take a Nobel Prize winning economist to understand that the best way to "stimulate" the economy isn't adding trillions more in government spending and debt – it is to empower small business owners and entrepreneurs to do what they do best by getting government out of the way.

Biden taking America back to "open borders"
After years of policies beefing up America's border security, the new Biden administration unfortunately appears intent on returning to a policy of "non-enforcement" when it comes to immigration law. This week we learned that the White House is planning to stop deportingillegal aliens who have broken other laws – including those convicted of drunk driving, drug violations and even assault. The news comes just weeks after President Biden raised eyebrows by announcing a moratorium on nearly all deportations shortly after being inaugurated (a federal judge has since blocked that directive), and as the administration has initiated a "catch-and-release" policy, turning illegal aliens loose in our communities rather than promptly removing them from the country. Not surprisingly, we are already beginning to see the troubling consequences of this misguided policy shift:  A new surge in illegal immigration that is overwhelming Border Patrol agents. We also learned this week that the Biden administration is planning to loosen security screening requirements for foreign nationals entering the U.S., something that several of my colleagues and I voiced opposition to in a letter this week.  As a new member of the House Judiciary Subcommittee on Immigration, I will work to enforce our immigration laws, and honor the sacrifices of those who immigrated to the United States legally by opposing misguided amnesty schemes that allow illegal aliens to cut to the front of the line.

Who is the WHO working for?
The World Health Organization was in the news again this week, with a team from the UN-affiliated group concluding after a short visit that it was "unlikely" that the COVID-19 virus originated in a Wuhan laboratory linked to Communist China's military. We also learned this week that some 90 people in China exhibited symptoms of the virus in October of 2019 – months before Chinese government officials came clean with the rest of the world about the virus.  Many of us have been very critical of the WHO since the beginning of the pandemic given the WHO's close ties to China and tendency to do or say whatever the Communist Party asks.  From ignoring early warnings about the pandemic from Taiwan, which is excluded from the UN and its agencies as a result of Chinese pressure, to repeating the infamous Chinese lie that the virus did not spread from person to person, the WHO's credibility has been badly damaged, and is in serious need of new leadership and reform. That's why this week I joined Rep. Jodey Arrington (TX-19) in introducing legislation that would block the Biden administration from rejoining this flawed organization until serious reforms are undertaken.  You can read more about the bill here. 

Special Olympics
This week I met with members of the Special Olympics Wisconsin delegation, including athlete Missy Baldwin of Minocqua, to discuss the incredible work they are doing to support young people with disabilities throughout the 7th Congressional district. Special Olympics International is the world's largest organization dedicated to developing and enhancing the unique talents of children and adults with intellectual disabilities through sports and competition. There are currently 170 chapters throughout Wisconsin, with a program in every county except one. While many people associate athletic competition as the primary goal of Special Olympics, their work also supports many health and educational services to better the lives of their athletes. Services such as vision screenings and dental screenings are offered at athletic events to help provide care to those who may be unable to access those specialists. Last year alone, Special Olympics Wisconsin gave out 300 pairs of prescription glasses to children experiencing vision problems. I am so grateful to the Special Olympics staff for their hard work to ensure children and adults with intellectual disabilities are given opportunities for continued learning, physical activity, and friendship, and will continue to support their mission throughout the appropriations process within the Department of Education and the CDC so people like Missy can continue to work with this incredible organization.

Working together to promote forest health
On Wednesday I had the chance to meet with members of the Pulp and Paperworkers Resource Council, a strong advocate for the forest products industry – which employs around 950,000 people across the country. One of the topics we discussed was the state of our federal forestlands many of which are overstocked, diseased, fire-prone or otherwise poorly managed. The result of this chronic mismanagement and neglect has too often been catastrophic wildfires that ravage critical habitat, foul watersheds, and threaten life and property. The utilization of tools like the "good neighbor authority"  and "stewardship contracting" are a couple of ways to promote cooperation to reduce the threat of catastrophic wildfires, save money for taxpayers and protect the environment. We also discussed how expensive and byzantine government permitting mandates can often require hundreds of steps of analysis and take years to complete – making it more difficult to restore forest health. It's long past time that we modernized this process and cut through counter-productive red tape so that win-win, public-private partnerships that promote growth, investment, and common-sense conservation are easier to achieve.
---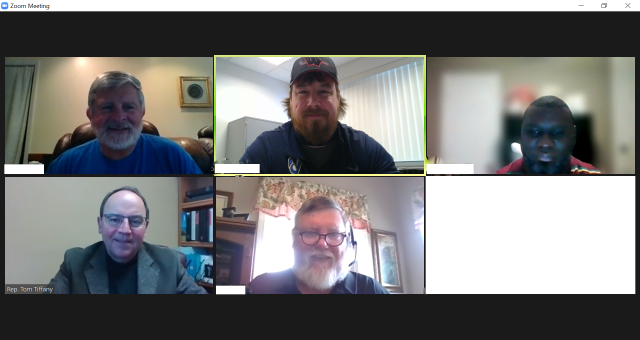 Tom meets with members of the Pulp and Paperworkers Resource Council.
---
District COVID Update
This week we continued to see a statistically significant decline in positive case numbers as well as a dip in the number of COVID-19 related deaths. Our hospital bed capacity remains stable with the North Central Healthcare Emergency Readiness Coalition (HERC) region hovering just under 80 percent of capacity and the Northwest region under 70 percent of bed capacity. For more information on county-specific data please utilize the resources on the DHS website.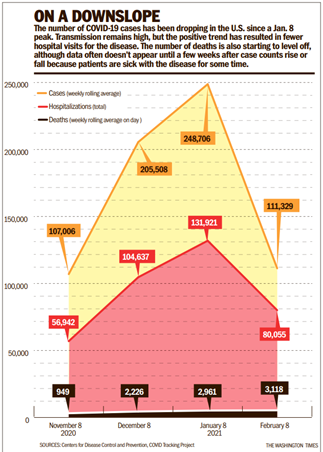 Source: The Washington Times

Vaccine update
We want to reinforce that for individuals looking for information on the state vaccine distribution process the best resource is the DHS website. For individuals already eligible for the first dose, including people over 65, we recommend you check with your primary care physician or local pharmacy to see where you may be able to make an appointment. DHS recently announced that 178 Walgreens locations throughout the state will begin administering vaccines starting today. Supplies will be limited with each pharmacy only receiving about 100 doses per week. If you meet the eligibility criteria you can register at the Walgreens website linked here. In the event you cannot make an appointment using one of those options, Marshfield Clinic has a helpful online tool where you can complete a vaccine interest form and they can match you with an available time slot and location based on your eligibility status and their supply in each facility throughout the state.

In case you missed it…
Congratulations to Land-O-Lakes in Vilas County for posting the coldest temperature in the continental U.S. on Tuesday, clocking it at a brisk -35 degrees.  Make sure to check in on your neighbors and loved ones, and bundle up out there, folks.

And don't forget:  Valentine's Day is right around the corner, so remember to get your sweetheart something nice.
Regional Assistance  
In addition to my Wausau and Washington, DC offices, you can reach my staff located in various parts of the district by phone in the location most convenient to you (Note: These lines have 202 area codes as they are connected directly through the US House of Representatives system in Washington, DC):

Hayward:        (202) 510-2790
                        P.O. Box 586
                        Hayward, WI 54843
Hudson:          (202) 510-8993

Coronavirus Response Resources  
The USDA continues to make resources and assistance available to agricultural producers and working families to ensure access, safety and stability for food markets and supplies. 

The Paycheck Protection Program (PPP) is accepting applications. The PPP program provides assistance to employers negatively affected by the public health emergency. 

Small businesses can also apply for assistance through the Economic Injury and Disaster Loan program. This program provides economic relief to businesses that are currently experiencing a temporary loss of revenue as a result of the pandemic.

If a friend forwarded you this newsletter, and you would like to receive it in the future, you can sign up here, and don't forget to connect with me on Twitter, Facebook, and Instagram. 

As always, you are welcome to visit my website or to contact my offices in Washington, DC or Wisconsin, which remain open for service, if you have any questions or need assistance. 
Sincerely,

Tom Tiffany
Member of Congress