The Tiffany Telegram: December 18, 2020
Dear Friend,

We hope you are enjoying a happy and healthy Holiday Season as we prepare to celebrate Christmas and usher in the New Year. 

Lawmakers remain in Washington, working on an end-of-year funding package that is unfortunately being held up by a special interest push to force working families across the country to fund bailouts of state and local governments who have strangled their tax base with job-killing lockdowns and spent far too much for far too long. 

I am committed to providing employers, schools and hospitals with common-sense liability protections and helping workers deal with the effects of arbitrary government-imposed restrictions on hours-of-operation and politically-motivated limits on customer capacity. However, I strongly oppose making taxpayers in responsible states pick up the tab for the reckless spending habits of politicians in states like Illinois and California, and Big City mayors in places like Chicago and San Francisco – many of whom have chosen to destroy their own tax base through crushing tax hikes and misguided business lockdowns. 

The key to getting our economy back on its feet is not shuttering mom-and-pop shops on Main Street.  As Telegram readers know, destructive, government-mandated business closures have had a devastating impact on our communities. In fact, recent news reports suggest that nearly 9 in 10 independent restaurants across the country may close permanently – a direct result of the "Lockdown First" mentality of too many politicians.

I am also working hard to get our kids back into the classroom and to support the efforts of local school officials to revise unworkable quarantine policies – policies that are pushing too many healthy kids out of school and forcing parents who can least afford it to miss work.
In this week's final 2020 installment of the Telegram we've got some updates for you on:
Getting kids back in school
Contact tracing measures in schools and decisions to switch children back and forth between in-person and virtual learning have deeply penalized children in K-12 learning settings while having little impact in preventing the spread of the COVID-19 virus. In rural communities like ours, many children do not have the ability to complete online learning due to lack of a reliable broadband connection. Constantly pushing kids back into "distance learning" has resulted in too many students falling behind in core subjects like math, and for many it means simply missing school altogether. In fact, the absence rate for virtual classrooms is 10 percent on any given day – and that number nearly doubles among children who receive free school lunches, indicating that virtual learning harms vulnerable and at-risk kids the most. This is why I have continued to push for better, more workable contact tracing models that prioritize keeping our kids in the classroom. Lakeland Union High School in Minocqua recently introduced such an approach and has yet to experience a single positive case traced back to the classroom transmission. I recently penned an op-ed for Fox News on the topic that you can read here.  The bottom line is that the in-person education of our kids is essential, not optional. Allowing schools to remain in limbo will only exacerbate a widening educational divide, continue to put undue pressure on parents, and cause negative, cascading effects in our community that impact everything from jobs and the economy to front-line health efforts – something I discussed in more detail for the Wisconsin State Journal here.
 
---
House Floor Clip: Honoring Tom Casperson
Tom honors the life of his friend and colleague, Tom Casperson, on the House floor.
---

Confronting the Communist Chinese threat
For years, many of us have been warning about the threat posed by Communist China. From unfair trade practices that have hammered our middle-class and wide-scale espionage against our country, to hiding information about the Wuhan coronavirus and operating systematic forced-labor concentration camps, Beijing represents a major challenge to peace and security. This week we learned that a Chinese operative may have compromised high profile congressmen on the Intelligence and Armed Services Committees as part of a multi-year effort to infiltrate key American institutions by posing as a student activist – a tactic often used by China's spy ministry. I am concerned about foreign agents exploiting this weakness, and penned a letter to the University of Wisconsin to ask what officials there are doing to guard against this threat. You can read that letter here. In a related effort, Rep. Grothman and I asked the Homeland Security Department late last month to close a little-known but very dangerous loophole in immigration law created by the Obama Administration in 2009 that allows citizens of Communist China to enter the Commonwealth of the Northern Mariana Islands (a U.S. territory) without a visa – setting off a boom in so-called "birth tourism" (children born in the Marianas are U.S. citizens). In fact, this practice has become so widespread that births to foreign citizens have exceeded the number of births to legal U.S. residents in the CNMI in recent years. It has also fueled corruption, organized criminal exploitation and human trafficking. The Washington Times published an in-depth investigative report on the issue in response to our letter. You can read that report here.

Cutting through red tape for the U.S. Coast Guard
I had the privilege of visiting our local United States Coast Guard (USCG) service members of Station Duluth a few months ago on Lake Superior. During that visit, it was brought to my attention that many USCG personnel and their families were unable to access the military healthcare system in Duluth, because they lived in Wisconsin. The dividing line between Tricare West and Tricare East (the USCG health care provider) just so happens to be the border between Wisconsin and Minnesota – which resulted in many of these folks being forced to travel several hours to gain access to healthcare. That didn't make much sense to them, and it didn't make much sense to me. I took those concerns back with me to Washington, and I'm happy to report that after some discussions with officials at the Defense Health Agency and USCG Headquarters, these active military personnel and their dependents can now access much closer and more convenient military health care options a short drive across the border in Minnesota. Our service members and their families sacrifice daily for us, and the system should not create unnecessary burdens for them. I am incredibly pleased with the result of our efforts to resolve this, and I hope this small meaningful change will make life a little easier for those who give so much for us.

Free access to National Parks for wounded veterans
Partisan gridlock too often characterizes what happens (or often doesn't happen) in Washington. But earlier this month President Trump signed bipartisan legislation that passed with my support instructing the Department of the Interior and the Department of Agriculture to make the National Parks and Federal Recreational Lands Pass available – free of charge and for the lifetime of the pass holder – to disabled vets and vets with service connected disabilities. It is important for us to never forget the sacrifices our service members have made to secure and protect our freedoms and the American way of life. Passage of this bill is one small measure of appreciation for the men and women who have given so much.
 
---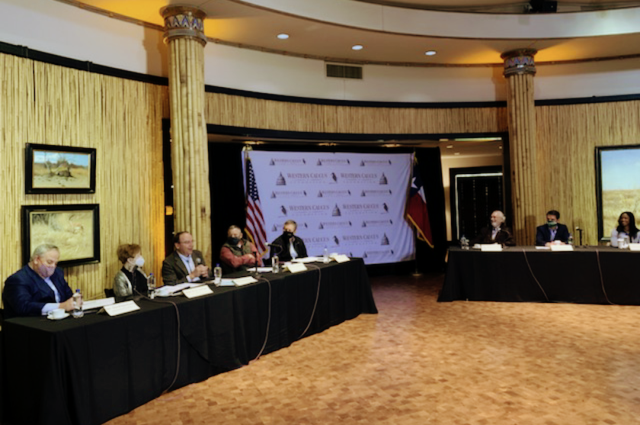 Tom speaking at the Western Caucus Forum in Fort Worth, Texas.
---

District Covid update
In the past four weeks, Wisconsin has battled through an uptick in positive cases. However, public health officials believe that the past week provides a positive indicator that some counties can begin to be removed from the "critically high" category for COVID-19 infection rates. The most recent 7-day positive case numbers show a 14 percent decline in positive cases that indicates the state is moving in the right direction. In the seventh district, our numbers continue to mirror those trends. My office is continuing to closely monitor hospital bed capacity numbers and staffing levels to help facilitate assistance where possible. We have supported the funding of additional support staff through the Federal Emergency Management Agency (FEMA) for a number of hospital facilities throughout the district. As mentioned above, however, for many facilities, staffing strains are related to overreaching contact-tracing models, which is why I was pleased with the CDC decision to revise quarantine guidelines from 14 days to 7-10 days. This decision will be a big help in ensuring that our healthcare facilities have access to the staff they need for normal operations. We do want to encourage people to continue practicing safe social distancing and stay home if you are feeling ill. In the event you need a COVID-19 test, the DHS website has a number of resources to help you find the nearest testing location.

Vaccine news
Earlier this week, Wisconsin received the first shipment of 50,000 vaccine doses from Pfizer and began administering them to healthcare workers throughout the state. Health officials estimate Wisconsin may receive an additional shipment of 100,000 Moderna vaccines as early as next week. The Pfizer vaccines require a complicated storage and shipping process involving dry ice, therefore those doses are being distributed through a specific coordination effort at each regional HERC (Healthcare Emergency Readiness Coalition) site, while the Moderna doses are being shipped directly to each facility. As you may know, the CDC and FDA recommendations specify that Phase 1a of vaccine distribution will go to frontline healthcare workers nationwide along with elderly residents in long-term care facilities. Phase 1b will then follow with distribution to essential workers such as police officers, teachers, and any healthcare workers not covered by Phase 1a. Phase 1c will then cover all other adults ages 65 or older and adults with high-risk medical conditions such as diabetes. Individuals who do not fall into those three categories can expect to receive their vaccine in late summer 2021 or beyond.

In case you missed it…
The holiday season brings out the best in all of us, and there was a great story out of Wausau this week reminding all of us that the Christmas spirit is alive and well this year, despite everything going on. A resident who found several thousand dollars in cash and some Christmas envelopes on the sidewalk contacted police, and together, they were able to get them back to their rightful owner. You can read more about this nice dose of holiday cheer here.
Upcoming Events
Mobile Office Hours: Ladysmith, WI
Monday, December 21, 2020 - 12:00pm
Veterans Memorial Association
605 Summit Ave
Ladysmith, WI 54848
United States

My office will hold mobile office hours in Ladysmith, WI next Monday. An office representative will be available to answer questions and assist with casework.

Veteran Resource Drive-through
Monday, January 4, 2021 - 10:00am
Fleet Farm Parking Lot
1001 Industrial Street
Hudson, WI 54016
United States

My office is very excited to host a veteran resource drive-through on January 4th, 2021 in the Fleet Farm Parking Lot. Veteran assistance information from multiple agencies will be handed out.

Regional Assistance  
In addition to my Wausau and Washington, DC offices, you can reach my staff located in various parts of the district by phone in the location most convenient to you (Note: These lines have 202 area codes as they are connected directly through the US House of Representatives system in Washington, DC):

Hayward:        (202) 510-2790
                        P.O. Box 586
                        Hayward, WI 54843

Hudson:           (202) 510-8993

Tomahawk:      (202) 738-6508 


Coronavirus Response Resources  
The USDA continues to make resources and assistance available to agricultural producers and working families to ensure access, safety and stability for food markets and supplies. 

Small businesses can apply for assistance through the Economic Injury and Disaster Loan program. This program provides economic relief to businesses that are currently experiencing a temporary loss of revenue as a result of the pandemic.

If a friend forwarded you this newsletter, and you would like to receive it in the future, you can sign up here, and don't forget to connect with me on Twitter, Facebook, and Instagram. 

As always, you are welcome to visit my website or to contact my offices in Washington, DC or Wisconsin, which remain open for service, if you have any questions or need assistance. 
Sincerely,

Tom Tiffany
Member of Congress