The Tiffany Telegram: August 27, 2021
Dear Friend,

We've all watched in horror over the last few weeks as the situation in Afghanistan has gone from bad to worse. The Biden administration's botched handling of this crisis is, simply put, a catastrophe of epic proportions. As I write to you now, news agencies are reporting a series of explosions and gunfire at Hamid Karzai Airport in Kabul that has resulted in the deaths of American troops. All of us hope and pray for thewell-being of our brave servicemen and women, as well as other Americans stuck in the country.

As chaos envelops the country and puts Americans in Afghanistan at risk, we face the potential for a second catastrophe here in our own country – as tens and perhaps hundreds of thousands of Afghan nationals head for the United States.

As I've said before, I support the admission of Afghans who directly assisted with sensitive U.S. military and diplomatic operations over thelast 20 years. But the reality of the situation is that not everyone now overwhelming the Kabul airport fits into that category. Earlier this week, President Biden said that more than 70,000 people had been evacuated from the country, but the administration has yet to clarify exactly how many helped American forces and how many are simply Afghan nationals looking to get out of the country in a final mad dash. Even worse, just 4,500 of those evacuated have been American citizens.

More than a week after the Biden administration announced that perhaps thousands of Afghan nationals would be headed to Fort McCoy in our state, the White House remains short on details regarding how and where evacuees are being vetted. Politico quoted an anonymous administration official last week who claimed that screening will take place in Qatar and Kuwait; but Pentagon spokesman John Kirby appeared to contradict that claim, calling the situation "fast developing" and saying that arrivals would continue their "processing" at sites in Texas, Virginia, and Wisconsin.

This matters. With the collapse of the Afghan government and closure of our embassy, careful vetting of Afghans – and confirming their background stories – is now much more difficult. After all, U.S. immigration officers can't exactly call up the Taliban and ask them to verify someone's past employment.

Remember, even when our embassy in Kabul was open and Afghanistan's government was functioning, the "Special Immigrant Visa" (SIV) program was plagued by fraud. In the first three months of this year, for example, a whopping 84 percent of Afghan SIV applications were rejected. 

Without reliable partners in Kabul, we face undeniable gaps in our screening process. In fact, just this week, an NBC news report revealed that "vetting…is complicated by the fact that biometric screening isn't available" at the Kabul airport – so we know people who have not been fully screened are boarding planes out of the country. We've already seen a cautionary tale out of France, where officials arrested an evacuee with possible terrorist ties this week after he admitted previously manning a Taliban checkpoint. 

I wrote a column on the topic this week, outlining some of the very real risks we now face. You can read it here. 

Bringing hundreds of thousands of foreigners from a terrorist hotbed into the U.S. now and asking questions later is simply reckless and irresponsible. The stakes are high. We must get this right. 

Sincerely,

Tom Tiffany
Member of Congress

Taliban seizes billions in U.S. weapons 
Over the last 20 years, American taxpayers have picked up the tab for more than $80 billion in sophisticated American military equipment for thenow defeated Afghan National Army. The list of military hardware we've provided includes machine guns, grenade launchers, artillery, night-vision goggles, armored vehicles, advanced communications technology, Blackhawk helicopters, as well as other reconnaissance and surveillance aircraft. So where is it now?  The Biden administration says they don't "have an exact inventory" – but we know much of it has fallen into the hands of Taliban insurgents. You can read about the "staggering" loss of weapons – and how much it cost us, here.

Speaking of spending… 
House Democrats approved an unprecedented $3.5 trillion budget framework on a party-line vote this week – although some groups say thepackage will ultimately cost $5.5 trillion. Even more unprecedented – one in five Democratic lawmakers were not even present for the vote, effectively "phoning it in" by "proxy."  The bill reads like a progressive wish-list – everything from amnesty for millions of illegal aliens and higher taxes, to the addition of more than 87,000 new IRS agents and green energy handouts.  The bill also doubled down on excessive social welfare spending – pushing millions of Americans out of the workforce and on to welfare, and further fueling inflation and higher prices. As usual, Republicans – and even moderate Democrats – were not allowed to offer any amendments to the massive package. You can read more about how Speaker Pelosi pushed this budget-busting bill through the House here.

Would you like fries with that? Maybe not. 
If you feel like you've been paying more these days for everything from gas and coffee to burgers and brats, it's not your imagination. And it's getting worse. This week the Washington Times reported that the cost of an order of french fries is up 106% since just last year – and we're guessing most of you didn't get a 106% pay raise at work. Runaway government spending and generous jobless benefits are fueling the price hikes, as "many Americans are simply making more money sitting on thesidelines receiving state and federal unemployment checks than working," according to the paper.  You can read their report here. 
Does President Biden think the Afghanistan crisis is a joke? 
I was disappointed to see news reports indicating that President Biden cracked a joke when a reporter asked him this week about what his administration's plan was to rescue Americans stranded in the war-torn country after the Taliban's August 31 deadline for U.S. personnel to withdraw from the country comes and goes. "You'll be the person I call," Mr. Biden said "with a laugh," in response. I don't have to tell you that thesituation in Afghanistan is extremely serious – and getting more serious with each passing moment. American personnel are being killed and wounded in terrorist attacks as they work to get our people out of thecountry. Public officials owe it to our soldiers, all of the Americans stuck behind enemy lines, and their families, to treat it that way.

Veterans resources 
Like all of us, my heart breaks as we learn of the death of US military personnel, and we lost several in Kabul this week. Our thoughts and prayers are with the families of our warriors. We will never forget. May God bless them all. As we continue to watch the tragedy unfolding in Afghanistan, I am cognizant of how our veterans may be feeling in thewake of the news. There are resources available to you, should you need them. You can reach the Veterans Crisis Line at 1-800-273-8255 or text 838-255. 
---
District Update
Veterans Cup-of-Coffee 
On Wednesday, I joined a group of veterans from Wisconsin's 7th District for their weekly Cup-of-Coffee in Rothschild, WI.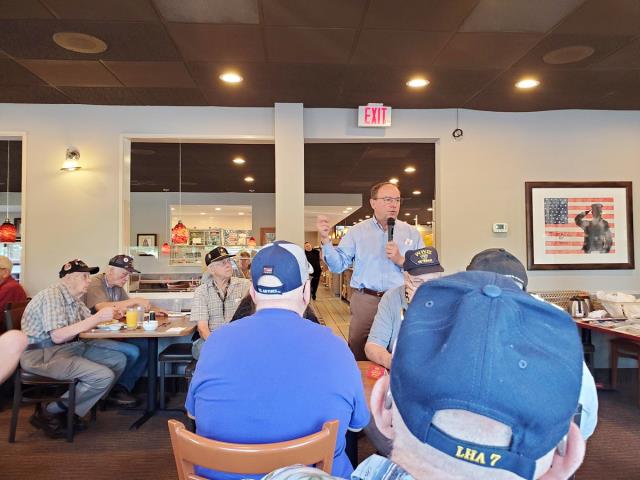 Congratulations on 50 Years, Westlake Enterprises! 
On Thursday, I joined Westlake Enterprises in Ladysmith to celebrate their 50th Anniversary. The organization provides training, day services, and job placement services for adults who have physical, cognitive, or emotional challenges. Congratulations on 50 great years!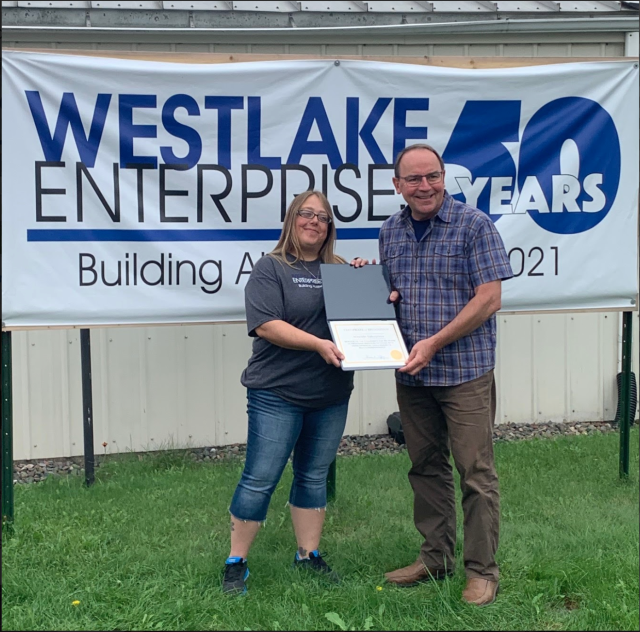 Eagle Scout Court of Honor
This week, I attended the Eagle Scout Court of Honor for Grant Kuenkel. Grant's Eagle Scout project was to clean all the head stones in the North Valley Cemetery. Great work, Grant!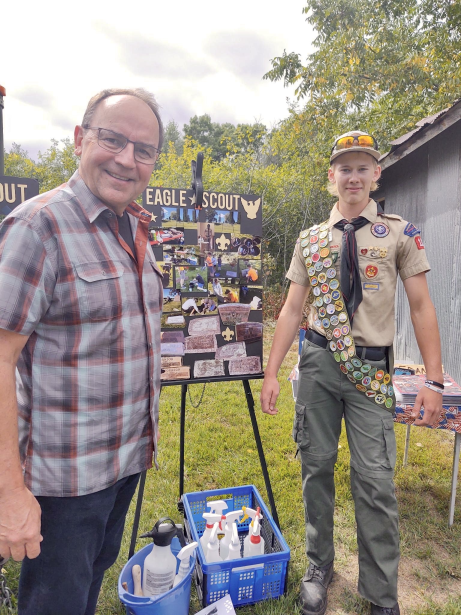 ---
Upcoming Events 
Join Congressman Tiffany for a special ceremony to rename theTomahawk Post Office after Einar 'Sarge' Ingman Jr.

Renaming Ceremony 
Saturday, August 28, 2021 - 9:30am
Tomahawk Post Office
311 W. Wisconsin Street
Tomahawk, WI 54487

Congressman Tiffany invites all WI-07 students to attend Service Academy Day. Parents and students will have the opportunity to meet with representatives from West Point, the Air Force Academy, Naval Academy, Merchant Marine Academy, U.S. Coast Guard Academy and ROTC.

Service Academy Day: Superior 
Saturday, September 25, 2021 - 10:00am
Richard I. Bong Veterans Historical Center
305 East 2nd Street
Superior, WI 54880
Click here to RSVP
---
Resources   
As many begin to travel internationally again, the Department of State is available to assist with passport services. We recommend to apply at least six months before planned travel as routine service may take up to about 18 weeks. For more information, please visit travel.state.gov.

The USDA continues to make resources and assistance available to agricultural producers and working families to ensure access, safety and stability for food markets and supplies. 

Small businesses can also apply for assistance through the Economic Injury and Disaster Loan program. This program provides economic relief to businesses that are currently experiencing a temporary loss of revenue as a result of the pandemic.

If a friend forwarded you this newsletter, and you would like to receive it in the future, you can subscribe here for weekly updates and connect with me on Twitter, Facebook, and Instagram. 

As always, you are welcome to visit my website or to contact my offices in Washington, DC or Wisconsin, which remain open for service, if you have any questions or need assistance.