The Tiffany Telegram: August 20, 2021
Dear Friend,

This week we were all confronted with grim images and videos reminiscent of 1975 Saigon coming out of Afghanistan. All Americans are saddened by these events and are hoping for the safe return of our fellow citizens.

The men and women of America's armed forces, many of whom sacrificed their lives and their limbs to defeat those who planned and carried out the September 11 attacks, are owed a deep debt of gratitude by every American. It is a debt none of us will ever be able to repay. Those who serve our country demonstrate a professionalism and distinction that is second to none. They are, without question, the finest America has to offer – and even now, continue to perform heroically under incredibly difficult circumstances. But those who lead our servicemen and women have a duty to be worthy of that service – something recent events have made even clearer. 

As I write to you, the situation continues to deteriorate – yet the White House seems unable to convey even basic answers about the path forward.

As of this week, the Biden administration has been unable to clearly say even how many Americans remain stranded in the country. President Biden said Wednesday that 15,000 of our fellow citizens are stuck in Afghanistan. His Press Secretary Jen Psaki gave a different number – telling reporters that there were 11,000 individuals who "self-identify as American citizens" waiting to be evacuated, Pentagon spokesman John Kirby said his "best guess" was between 5,000 and 10,000, while another defense analyst estimated the number could be as high as 40,000. 

White House officials have also been unwilling to explain how many Afghan nationals will be brought to the United States – or whether they will be screened and vetted before arriving here.  An unnamed Homeland Security Department official told Politico that the screening will happen before entering the U.S. – but the Pentagon says that "processing" of the arriving Afghans will happen at Fort McCoy, here in Wisconsin, and at other bases in the United States. Even more alarming, President Biden's Citizenship and Immigration Service is now asking for "volunteers" to deploy to these installations to assist with reviewing visa applications. President Biden has also declined to say if those arriving without valid visas will be held in custody while they are screened – or if he will employ the same kind of failed "catch-and-release" policy we are currently seeing on the southern border.

This is deeply concerning. 

I voted for legislation to expand, improve and accelerate the processing of visas for Afghan translators and others who assisted in the U.S. war effort earlier this year – something that the vast majority of Americans support. While I would have preferred a safe third country review option as part of that legislation, Democratic leaders in the House did not allow for consideration of any alternatives, amendments or improvements to what amounted to a take-it-or-leave it proposal.

The Special Immigrant Visa (SIV) program is already under fire for its susceptibility to fraud. According to recent reports, more than 80 percent of the visa applications submitted by Afghans were rejected during the first three months of the year alone – long before the situation in Afghanistan collapsed into utter chaos. Trying to confirm the identities of Afghans now – let alone conducting proper background checks – with no functioning US embassy in Kabul and Afghanistan under the control of the Taliban will make this process even more complicated. 

I believe President Biden should abandon his dangerous, ready-fire-aim plan – and instead transport those fleeing to safe third countries for vetting before bringing thousands of unknown people into Wisconsin or other U.S. states. Our national security has been deeply degraded in the months since January 20. Allowing the mass entry of foreigners from a known hotbed of terrorism now and asking questions later will only make this situation far worse.

I have issued a statement on the rapid collapse in Afghanistan, and outlined my concerns with President Biden's apparent refugee resettlement plans, both of which are posted on my website.

I am committed to doing everything I can to help ensure the safe and speedy evacuation of all U.S. citizens from Afghanistan. This must be our immediate and primary focus. Please keep all of them and their families in your prayers.

Sincerely,

Tom Tiffany
Member of Congress

Veterans' resources 
As the world watches the humanitarian and strategic tragedy unfolding in Afghanistan, I am cognizant that the effects of these events are not confined to only the Afghan people and the many American citizens trapped abroad. Our veterans, many of whom fought and bled in support of Operation Enduring Freedom and the War on Terror, are also feeling the aftermath in the wake of the Afghanistan collapse. Our Gold Star families, who have suffered after the tremendous loss of their loved ones, are also affected by this tragedy. The invisible wounds and scars of war remain with them, as they navigate life without their friends and loved ones. To all of you: service members, veterans, families and friends, know that your sacrifices, sweat, tears and blood were not in vain. Over the last twenty years, you not only sacrificed for your country but you brought hope, education and respect of human life, to the people of Afghanistan. Your selfless efforts and dedication to the mission will have a lasting effect across the next generations of Afghans. You showed them respect, kindness, and friendship –you made an indelible impact on them which they will not soon forget. You are their heroes – you are our heroes. As the days move forward and you find yourself struggling with the news reports, please reach out to someone. You are not alone, and there are many who are ready, willing and able to reach into the darkness. There are resources available to you, should you need them. Also remember your family, friends, neighbors, church and congregation. Do not do this alone when you have so many around you that care for you. Please know that my family and I, my staff and everyone in our community admire and thank you for the sacrifices you have made. It's patriots like you who continue to make our country great. Our nation will always be in your debt. God bless you.

Afghanistan evacuation information 
The U.S. Department of State has posted an advisory outlining evacuation information and procedures here. If you or any of your family members are currently in Afghanistan and need assistance getting out of the country, please review this information. As always, you can also contact my offices should you or any of your family members be in the conflict zone and in need of assistance.

Price hikes outstrip wages as government prepares to spend trillions more 
We've been letting Telegram readers know about the massive price increases folks have been facing for everything from gas and school supplies to bacon and beer.  Just last month the Bureau of Labor Statistics reported that gasoline prices are up a whopping 42.9 percent over the last year, and the cost of natural gas service have risen by more than 35 percent over the same period.  This week we learned that those price increases are outstripping wage gains – meaning that real wages for working people are actually falling. As I've said many times, runaway government spending is only making things worse – and I'm not the only one. Even one of former President Obama's top economic advisors warned that President Biden's blowout, irresponsible spending spree would result in an inflation crisis. Even so, Democrats may double down with another $5.5 trillion spending framework that could be considered in Congress as early as next week.

White House cooks up food stamp expansion 
This week we learned that President Biden will dramatically expand eligibility for food stamps – meaning a family of four on this welfare program could receive more than $800 per month in benefits. That's even more than the $537 that an average working family spends on food at home in a month. While most Americans agree that it's important to provide a temporary safety net for our most vulnerable friends and neighbors who may have fallen on hard times, welfare benefits should not discourage people who can work from doing so. You can read about the Biden administration's food stamp expansion plan here.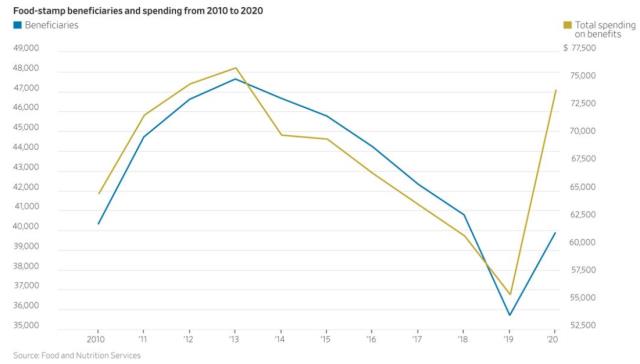 ---
                          Committee Update
Committee on Natural Resources
Worrisome Forest Service harvest numbers 
This week the Forest Service released its Fiscal Year 2021 third Quarter Report, and the numbers are not encouraging. The agency reported a steep decline in timber harvests compared to the same time last year – an especially large reduction in forest harvesting during a time when we are experiencing increased demand for lumber, and as wildfires demonstrate the need for more active forest management. The region Wisconsin is located in, Forest Service Region 9, sold 459.9 million board-feet last year during this period, but only 388.7 million board-feet this year. It doesn't have to be this way.  We are more than capable of larger harvests, and should allow them in the interest of both environmental conservation and economic development – which are not mutually exclusive goals. Unfortunately, the report underscores the Biden administration's continued policy of underutilizing America's vast natural resources and rejecting the "multiple-use" philosophy that has characterized the beneficial use of our public lands by all Americans for decades. If we do not reverse course, more mills will close, more forests will burn, more jobs will be lost, more wildlife habitat will be destroyed and more recreation opportunities on our cherished federal lands will be restricted.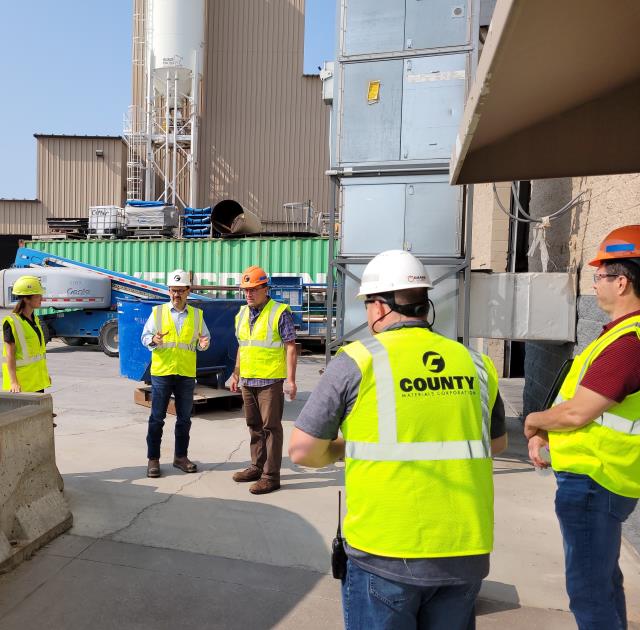 Tour of County Materials in Roberts, WI 
---
                             Upcoming Events 
Join Congressman Tiffany for a special ceremony to rename the Tomahawk Post Office after Einar 'Sarge' Ingman Jr.

Post Office Renaming Ceremony 
Saturday, August 28, 2021 - 9:30am
Tomahawk Post Office
311 W. Wisconsin Street
Tomahawk, WI

Good News in Wisconsin's 7th

Patriot Award 

Congratulations to Pamela Krueger from Aspirus for receiving the Patriot Award from the Employer Support of the Guard and Reserve, an agency in the Department of Defense. The award recognizes those who provide outstanding patriotic support and cooperation to their employees.
---
Packers New Uniform 

The Packers unveiled a new third uniform this week—a throwback to the uniforms they wore from 1950-1953. The third uniform features a green jersey with gold numbers and stripes.
---
Barefoot National Champion

Earlier this month Chetek resident Brody Meskers competed in the 2021 U.S. Barefoot National Championship in Conroe, Texas. The barefoot water skier won gold in all three events and was named the overall champion. Way to go Brody!