The Tiffany Telegram: April 9, 2021
Dear Friend,

We hope you had a joyful Easter holiday with your friends and family.

This week I traveled to Texas as part of a congressional fact-finding mission to get a first-hand look at the chaotic situation that is spiraling out of control on America's southern border. Like many of you, I have been following disturbing news reports about the growing illegal immigration crisis that began almost immediately after President Biden was sworn in, and I can tell you that things are even worse than we've been told.
 
---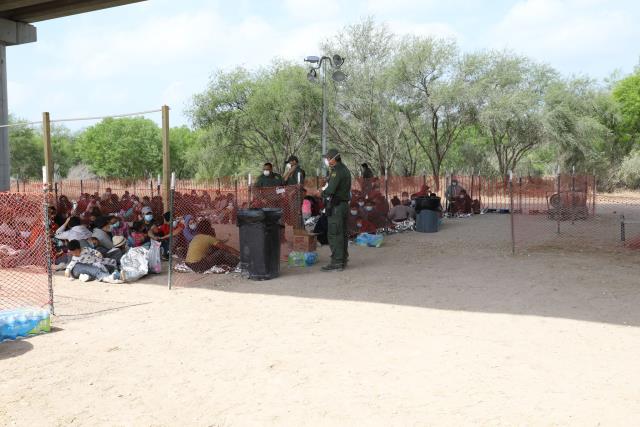 Temporary migrant processing facility under the Anzalduas Bridge near the                                              US-Mexico border
---
        
At the current pace, America will see more than one million illegal aliens released into the United States this year – and the number of border apprehensions this fiscal year has already surpassed all of those in 2020.  President Biden has claimed that this unprecedented surge of illegal immigration is some sort of "normal" or "seasonal" occurrence. But as you can see from the graphs I've included, this claim is simply not true.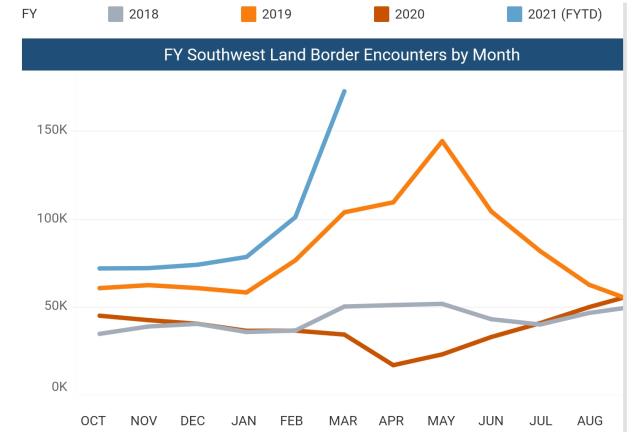 Source: U.S. Customs and Border Protection

More than 172,000 illegal aliens were encountered by Border Patrol trying to enter the country outside of designated ports-of-entry in March – the highest monthly number in 20 years. To put this number in perspective, it is more than the entire population of Marathon County. Among that total are nearly 1,000 aliens with prior criminal records, including felons and sex offenders, and even two Yemeni nationals whose names appeared on the terrorist watch list – a fact the Biden administration has attempted to hide from the public. 

Even more alarming, some 20,000 of these aliens were unaccompanied alien children, more than double the number we saw in February – a total that dwarfs the previous record. My friend Rep. Burgess Owens of Utah compared the human trafficking crisis the Biden administration has created on the border as a form of modern-day slavery, and he's right (more on some good work Rep. Owens and I are collaborating together on a little later in this week's Telegram).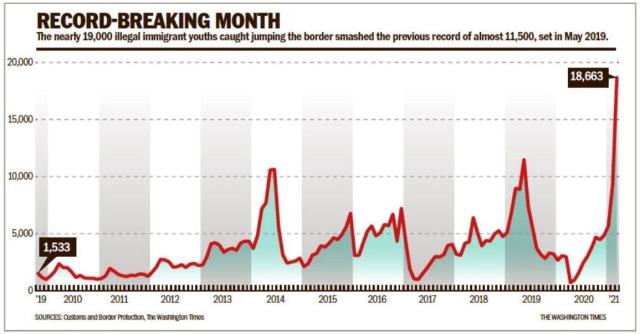 Source: The Washington Times

And the situation is worsening with each passing day. More than 40 percent of Border Patrol personnel have been pulled off of their positions guarding our southern border to help manage overflowing detention facilities and makeshift processing centers, leaving the border even more open to dangerous drugs and human smugglers. Agents told me the cartels have taken advantage of the chaos, flooding our country with massive amounts of cocaine, heroin, methamphetamine and fentanyl – drugs that ultimately end up in communities like ours. The bottom line is that the disorder on the border has made every state in America a border state.

In addition to the human cost, the financial cost to taxpayers is staggering. The Health and Human Services Department, which oversees the housing of unaccompanied alien minors, reported spending at least $60 million per week for this purpose. On top of that, taxpayers are footing a yet-to-be-disclosed bill for flights to reunite illegal aliens with US-based family members – some of whom are themselves illegal aliens – and some $90 million has been spent to pay for hotel rooms for illegal immigrants.
 
On Thursday, I concluded my trip to the US-Mexico border, which is being overwhelmed as a result of misguided Biden administration policies.
Watch: Border Trip Recap

So why is this happening?
The answer is simple.  The tidal wave of illegal immigration that is overwhelming the Border Patrol (and which will soon be overwhelming the schools, health care systems and social safety net in our own communities as illegal aliens fan out across the country) is directly attributable to three catastrophic policy changes President Biden put in place shortly after taking office. 


The head of the National Border Patrol Council Brandon Judd told us that President Biden's decision to end President Trump's "Remain in Mexico" or MPP program – which required migrants to stay in Mexico while their asylum claims were being processed (some 90 percent of these claims are ultimately rejected as baseless). Now that migrants know they will be released into the United States while their claims are considered, they are coming in droves – with many never showing up to their hearings.

President Biden's decision to return to the failed policy of "catch and release" has also contributed to the influx, and for the same reason: When illegal aliens know they will simply be released into the United States pending some future hearing even if they are apprehended, they are more likely to make the trip and game the system.

Finally, President Biden's decision to halt construction of the border fence has made the situation worse. In fact, his own Homeland Security Secretary has all but admitted that the decision was a mistake, and hinted that the White House may reverse course. I certainly hope they do.

It's long past time for the White House to admit the mess they've made on immigration, and to get serious about working with lawmakers to clean it up.

Thanks again for subscribing to the Telegram, and we hope you enjoy this week's edition!

Sincerely,

Tom Tiffany
Member of Congress
 
---
                          Legislative Update
Equality for all farmers
Just before the Easter holiday, I introduced legislation with my friend and colleague Rep. Burgess Owens of Utah to introduce the Agriculture Civil Rights and Equality Act – or ACRE Act for short. Our bill would prohibit officials at the U.S. Department of Agriculture from discriminating or providing preferential treatment to any person on the basis of race, color, national origin or sex. Telegram readers may recall that the massive spending bill recently signed into law by President Biden includes a $5 billion agriculture debt relief program earmarked exclusively for non-white farmers. We believe that's just plain wrong. To extend government assistance to some farmers but not others based on race undermines the constitution's guarantee of equal protection for all Americans. If we are serious about ending discrimination in the agriculture sector, the first step is for the government to stop doing the discriminating. You can read more about the bill here, and why Mr. Owens and I are working together to put an end to this unfair discrimination.

Dems doubling down on gun control
This week President Biden moved to take unilateral action to further restrict gun rights, declaring "no amendment is absolute," almost as if the President thinks he has the power to draw an asterisk on the constitution. The contrast between the White House's policy of ignoring the illegal immigration crisis on our southern border while taking aim at the constitutional rights of law-abiding citizens is stark and frankly, shameful. The sweeping executive action will target so-called "ghost guns," a label given to component parts that have not been completed enough for classification as a firearm. This is just another effort to regulate, harass and inconvenience sportsmen and other law-abiding gun owners. Biden's edicts will also restrict certain legal firearms accessories and direct the Justice Department to publish model "red flag" legislation for states with an eye toward enacting a similar law at the federal level. You can read more about "red flag" laws here. Unfortunately, this is just another down payment on what appears to be the administration's long-term installment plan to totally undermine the individual right of Americans to keep and bear arms. President Biden and Democrats in Congress are also looking to resurrect the so-called "assault weapons ban" that expired in 2004. Many Telegram readers no doubt remember that failed law, which did nothing to curb homicide or violent crime. The Journal of General Internal Medicine recently "found no statistically significant relationship between assault weapon or large-capacity magazine bans and homicide rates," one of many studies that arrives at the same conclusion. Most recently the FBI's Uniform Crime Report found, violent crime rates dropped in 2019 compared to 2018, and overall fell 3.8% below the 2010 level. This push for new gun control has nothing to do with curbing crime, and everything to do with curbing freedom.

Letter to Senate Finance Members on Andrea Palm
Last week, myself along with Rep. Scott Fitzgerald (WI-05) sent a letter to all members of the Senate Committee on Finance asking that they oppose the confirmation of Andrea Palm as Deputy Secretary of HHS. Palm has not received a date for a confirmation hearing, but Congressman Fitzgerald and I felt it was important to highlight her disastrous record as Acting Secretary of the Department of Health Services in Wisconsin. Not only did Palm overstep her boundaries within DHS by extending the "Safer at Home" order, but she failed to organize a proper vaccine distribution plan prior to initial shipments in December, resulting in Wisconsin ranking in the bottom 10 percent in the country for distribution. Palm's successor Karen Timberlake has worked hard to clean up the state distribution model she inherited, creating what is now the most efficient vaccine distribution system in the country. Ultimately, Palm's record clearly shows that she is not well equipped to be organizing our national health efforts as we work to recover from this pandemic together. The text of the letter to Senate Finance members can be found here.

Gold Arrow Families
This week I joined Rep. Greg Steube of Florida in introducing a resolution expressing support for naming surviving family members of veterans who die by suicide as "Gold Arrow Families." This resolution seeks to promote awareness for the needs of the grieving family members of veterans who die by suicide, and it determines that suicides by veterans can be reduced, through the adoption of programs and legislation that provide Gold Arrow Families with resources to help them cope with their loss. Each year, our men and women who serve or have served deal with their military experiences in their own ways. Unfortunately, for some, it becomes too much. They leave behind grieving families and friends, often without answers. As we continue to work to prevent suicides amongst our veterans, we must never forget about the loved ones who remain in the wake of these tragedies.

Hmong burial rights
This week I cosponsored legislation to expand eligibility for Special Guerilla Unit (SGU) veterans who served alongside US soldiers during the Vietnam war. In the last Congress, burial rights in national cemeteries were extended to SGU Veterans who became naturalized citizens under the Hmong Veterans Naturalization Act of 2000. This bill will expand eligibility to Veterans who were naturalized prior to the 2000 law, authorizing the interment in national cemeteries for all Hmong and Lao veterans who served in support of U.S. Forces in the Vietnam War. During the Vietnam War, the CIA covertly trained Hmong men and women in Laos and led them into combat in support of U.S. Forces. These indigenous forces, fighting shoulder to shoulder with U.S. soldiers, conducted direct missions against the Communist forces and their North Vietnamese supporters. Hmong soldiers saved countless American lives, and over the course of the war, more than 100,000 Hmong made the ultimate sacrifice. Of the Hmong who became U.S. citizens, approximately 5,000 veterans are still with us today, and they deserve the choice to be buried in national cemeteries. This legislation would authorize, all of those who bravely fought alongside the United States, the benefit of interment in national cemeteries across the nation. We need to ensure all of our veterans can receive the benefits that they earned and deserve.
 
---
                              District Update
Optimism for expanded rail service
Telegram readers may remember my push for restoring rail service to underserved communities in Northern Wisconsin back in July. That's why we were pleased to see freight rail carrier Canadian National (CN) announce a partnership with Watco that the companies say will improve access to rail service in northern Wisconsin and the Upper Peninsula of Michigan. Access to reliable rail service is a critically important to the viability of our agriculture, timber and manufacturing sectors – and a key component of growth and opportunity in our region. I'm glad that CN followed through on their commitment to spin off the old Wisconsin Central lines, and I look forward to working with CN and Watco, the Surface Transportation Board, industry leaders and other stakeholders to ensure that this agreement results in better service, lower rates, and a long-term commitment to the region. You can read my press release here.

COVID-19/Vaccine
This week Wisconsin saw an 18 percent increase in positive case numbers, rising from 400 cases per 100,000 residents less than two weeks ago to 634 cases per 100,000 residents as of yesterday. However, deaths attributed to COVID-19 continue to decline, a positive impact showing that vaccinating our elderly and most vulnerable residents has made a major impact in the battle against this virus. Additionally, many of you may have seen that Michigan is experiencing some concerning patterns as the result of the B117 variant spreading among unvaccinated residents. Many of those variant cases are occurring amongst younger unvaccinated individuals who are not yet eligible or registered for a first dose. We are tracking the spread closely in Wisconsin as well as neighboring Illinois and Minnesota. If you are interested in reading more about the current status on case numbers please visit the DHS website here: https://www.dhs.wisconsin.gov/covid-19/deaths.htm.

This Monday, all residents over the age of 16 became eligible to register for a vaccine in the state of Wisconsin. We encourage you to utilize the DHS website here if you are looking to register for the first time: https://vaccinate.wi.gov/en-US/. Currently that registry system will place you in an appointment slot in either Marathon, Oneida, or Eau Claire County, based on your address within the district. If those locations are not accessible to you another option would be to utilize the federal pharmacy program by visiting the website for your local pharmacy. Participating pharmacies in Wisconsin include Kroger, Meijer, Walgreens, and Walmart. Finally, on an exciting note, 1 in 4 U.S. residents have now received at least one dose of the vaccine. President Biden announced earlier this week he would be moving up his previously announced date for all U.S. residents 16 or older to register for a vaccine from May 1st to April 19th as we work towards reaching herd immunity.
 
---
                                  Resources  
The USDA continues to make resources and assistance available to agricultural producers and working families to ensure access, safety and stability for food markets and supplies. 

Small businesses can also apply for assistance through the Economic Injury and Disaster Loan program. This program provides economic relief to businesses that are currently experiencing a temporary loss of revenue as a result of the pandemic.

If a friend forwarded you this newsletter, and you would like to receive it in the future, you can subscribe here for weekly updates and connect with me on Twitter, Facebook, and Instagram. 

As always, you are welcome to visit my website or to contact my offices in Washington, DC or Wisconsin, which remain open for service, if you have any questions or need assistance.