The Tiffany Telegram: April 16, 2021
Table of Contents
 Committee Update
 Recent Legislation
 District Update
---
Dear Friend,

I wanted to start off this week by letting those of you who haven't heard that the IRS has pushed back the deadline for individuals to file their taxes. You can read about the change to see how it might affect you, and remember, you can always contact my district office if you have questions.

This week the Democrat-controlled House of Representatives reconvened for legislative activity, and as they have in recent months, they picked up right where they left off before the Easter Holiday, promoting more bad ideas.

As Telegram readers know, I am a member of the House Judiciary Committee. And two of the most extreme ideas – packing the U.S. Supreme Court and promoting "reparations" for slavery – fall directly under the panel's jurisdiction.

In the mid-1930s, President Franklin Roosevelt infamously proposed expanding the size of theSupreme Court in a brazen effort to politicize the judiciary and convert it into a "rubber-stamp" for his ambitious, government-expanding agenda. The effort, which met with overwhelming public opposition, was dubbed "court packing," and it was resoundingly rejected by the American people.

To this day, FDR's transparent attack on the separation of powers and judicial independence – two pillars of America's constitutional Republic – remain a permanent stain on his legacy. His court-packing scheme was such a disaster that for nearly a century, no serious public official has been crazy enough to try it again.

Until now.

This week, three Democratic lawmakers – including the Chairman of the House Judiciary Committee Jerrold Nadler of New York City, introduced legislation designed to eviscerate the Supreme Court by increasing the number of Supreme Court Justices from nine to thirteen. This would allow President Biden to immediately appoint four new justices, sweeping away what Democrats see as the last remaining obstacle to their unchecked ideological control of every single branch of our government.

I strongly oppose this unprecedented attack on the constitution, which Joe Biden himself called a "bonehead idea" in 1983.  That's why I joined several of my colleagues in introducing a constitutional amendment to fix the number of Supreme Court justices at nine – to ensure that the kind of power grab Rep. Nadler is proposing will never happen.

Democrats also renewed their effort to further divide and balkanize America along racial lines, pushing forward with a plan that would pave the way for "reparations." The House Judiciary Committee voted along party lines to head down that dangerous road this week, seeking to effectuate a massive, race-based wealth transfer. Americans of all political stripes oppose this divisive and destructive idea, which some experts estimate would cost a whopping $12 trillion.

Americans know that forcing people who never owned slaves to pay people who were never enslaved is unfair. It is also unconstitutional. Americans of all races, colors and creeds gave their lives in the Civil War and the years that followed to build a more perfect union, end government-sponsored racism, and ensure that all Americans are treated fairly, with dignity and respect, as individuals – not faceless, nameless components of a race or ethnic group.

I am deeply opposed to this dangerous and immoral plan, and I am committed to defeating it.

Adding insult to injury, we also saw a Democrat lawmaker from a neighboring state shockingly call for the total elimination of policing and jails – and classify our law enforcement officers as "intentionally racist" – just a few days ago.  I didn't believe it either when I heard – but here's her tweet. 
---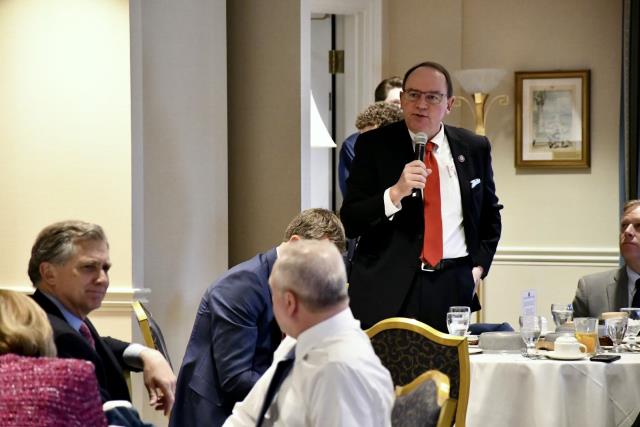 Republican Study Committee Member Lunch
---
I wanted to take a moment to thank all of you for reading our newsletter.  With all of the social media censorship and bias we often see in the legacy media, I'm glad you are willing to spend a few minutes each week to read through our weekly update so we can tell you first-hand what's happening in the Nation's Capital. We also want to thank those of you who share it with your friends and neighbors.

We hope you enjoy this edition of the Telegram!

Sincerely,

Tom Tiffany
Member of Congress

Bringing our troops home from Afghanistan 
This week we heard the President's stance on the Afghanistan troop withdrawal. I am pleased to hear that he will build upon the progress of the Trump administration and bring our brave men and women home – albeit a few months later than scheduled (President Trump had planned to have them home by May).  Let us never forget the selfless sacrifices that our service members have made fighting the War on Terror. Let us also never forget that we must ensure they receive the care they need and are entitled to as they come home with the scars of war. My family, staff and I salute and thank you for all you do for us, and our country.

Brett Favre: Make sports about sports 
Some of you may have seen the comments former Packers legend and Super Bowl champion Brett Favre recently made about the endless politicizing of sports in America. The storied QB had a refreshing take during an interview this week that I think reflects what a lot of fans – regardless of their political views – are thinking.  "I think both sides, for the most part, want to see it just remain about the sport, not about politics," he said, "I know when I turn on a game, I want to watch the game. I want to watch players play and teams win, lose, come from behind. I want to watch all the, you know, important parts of the game, not what's going on outside of the game. And I think the general fan feels the same way." You can read about that interview here.

What's happening on the US-Mexico border?
Telegram readers know I visited the US-Mexico border last week to get a firsthand look at the chaotic immigration crisis that the Biden administration has created. This week, I penned a letter to Biden Homeland Security Secretary Alejandro Mayorkas demanding answers to some very serious questions – like how DHS is verifying the identity of illegal aliens who are being released, who is picking up the tab for their flights into the interior of the country, and whether they are being tested for COVID-19 before being cut loose into our neighborhoods. During my visit to detention facilities in Texas, overwhelmed Border Patrol agents told me that many of the migrants who illegally cross the border do so with no identity documents. Upon being released, many of these aliens are put on commercial flights and fan out across the country. Border Patrol officials admitted that they struggle to confirm the identity of migrants and have no mechanism to track them once they leave federal custody. You can read the entire text of my letter to the Secretary here.

What are your thoughts on Wisconsin wildlife management? 
The Wisconsin Department of Natural Resources (DNR) is soliciting input from the public on wolf management, and civic engagement groups are asking folks to weigh in.  As you may recall, my top priority upon being sworn into Congress was to get the Gray Wolf removed from the federal endangered species list, and to restore that power to the states. And while I'm pleased that the Trump administration took that step administratively, I am continuing to push for a change in the law that would prevent the Biden administration from "re-listing" the wolf and encroaching on local control.  I also strongly supported this year's wolf hunt. If you're interested, and have some time to share your thoughts with DNR, you can do so here. DNR is also taking public comment on deer harvesting.
---
                            Committee Update
Committee on Natural Resources
This week I joined all my Republican colleagues from the Natural Resources Committee in sending a letter to the U.S. Department of the Interior Secretary, Debra Haaland asking for more information about the Biden administration's so-called "30 by 30 initiative," which is vaguely defined as "protecting" 30 percent of land and waters by 2030. This arbitrary goal set by the administration has raised plenty of questions and concerns in communities across the country – particularly those in rural areas. I am very concerned that this initiative may be little more than a smokescreen for a massive federal land grab, one with devastating economic and environmental impacts. At the time we sent the letter, there had been just one "engagement session" about this opaque proposal. Many questions remain unanswered, some as simple as the definition of "conservation." More discussion, dialogue and transparency is needed – and stakeholders in small town America deserve a seat at the table. You can read our letter here.

The Committee also held a Republican member forum titled "Where are the jobs?" in which members had the opportunity to invite witnesses from their districts to highlight the devastating impacts of the Biden administration's energy policy. I invited Luther Hoffman, Project Manager with Target Hospitality from Eagle River. He provided valuable insight into how President Biden's shutdown of the Keystone XL pipeline project has put a lot of people out of work. I want to thank Luther for taking some time to share his perspective with my colleagues and I. You can watch some of today's member forum below.
 
Committee
 on Natural Resources: "Where are the jobs?" Member Forum
---
                            Recent Legislation
Fair and Open Compensation Act
I signed on to a letter this week along with several of my colleagues to Transportation and Infrastructure Chairman Peter DeFazio (OR-04) and Ranking Member Sam Graves (MO-06) consider including provisions in The Fair and Open Compensation Act (FOCA) as part of the surface transportation reauthorization bill. Earlier this year I signed on as a cosponsor of FOCA, which prohibits federally supported construction projects from requiring project labor agreements (PLAs), which can artificially boost the cost of public works projects. Many of you may remember in 2017 that the state legislature passed similar legislation to bar state and local governments from requiring contractors to reach agreements with unions on any publicly funded projects. Open competition provisions help to lower costs, give more businesses a shot at securing contracts and give taxpayers more bang for their buck.
---
                               District Update
COVID/Vaccine
As of yesterday, the daily average for reported positive cases was at 823, up from 733 last week. Our statewide deaths attributed to COVID-19 continue to decline regardless of the increase in case numbers, a positive mark in our vaccination efforts for the most vulnerable populations. In terms of hospitalizations, the North Central region has seen no change in COVID-related hospital admissions, while the Northwest region saw a 50 percent increase in hospitalizations over the last two weeks with many cases attributed to the B117 variant spreading throughout Michigan and Minnesota.  

On the vaccination front, Wisconsin has now given 3.6 million first doses and more than 1.3 million people have completed their full vaccine series. An exciting study out of our very own Marshfield Clinic showed that 14 days after the first dose of a Moderna or Pfizer vaccine the recipient is 80 percent protected against COVID-19. In addition, many of you may have seen the recent pause in use for the Johnson & Johnson vaccine, which was triggered by an investigation into blood clots amongst six different women under the age of 50. The CDC and FDA released a joint statement that they would be recommending a pause in J&J vaccine distribution while they conduct a review of the adverse cases and assess the use of J&J moving forward. Both agencies did clarify that these side effects appear to be incredibly rare. The federal government along with Governor Evers office made it clear that this pause will not impact the timeline for national vaccinations as J&J was only being used for about 5 percent of people nationwide. Both Moderna and Pfizer continue to be safe for use and show limited side effects amongst the general population. We encourage you to continue using the state website here to register for a vaccination appointment at your local site: https://vaccinate.wi.gov/en-US/. 
---
                                 Resources  
The USDA continues to make resources and assistance available to agricultural producers and working families to ensure access, safety and stability for food markets and supplies. 

Small businesses can also apply for assistance through the Economic Injury and Disaster Loan program. This program provides economic relief to businesses that are currently experiencing a temporary loss of revenue as a result of the pandemic.

If a friend forwarded you this newsletter, and you would like to receive it in the future, you can subscribe here for weekly updates and connect with me on Twitter, Facebook, and Instagram. 

As always, you are welcome to visit my website or to contact my offices in Washington, DC or Wisconsin, which remain open for service, if you have any questions or need assistance.